Treatments and prices – private surgery costs in the UK
For private treatment enquiries call 0330 173 1264
Pricelist
Wellsoon self-pay surgery
Choose Wellsoon from Practice Plus Group and get well sooner. With no hidden costs, you'll pay less than you might think and be back to your best sooner than you thought.
Surgery in 4 to 6 weeks
No hidden costs
Flexible finance options
To chat about Wellsoon self-pay surgery options, call our Private Patient Advisors today, on 0330 818 8945. Alternatively, you can email us on privatepatient@practiceplusgroup.com
About private operation costs in the UK
To learn more about paying for yourself call our dedicated Private Patient Advisors on 0333 321 1961.
Download Private Patient Terms and Conditions.
All prices are subject to change without prior notice.
Prices will be explained to you in advance of payment.
There will be a charge for any diagnostic tests that may be required as a result of your initial consultation with our specialists.
Fixed price surgery
It costs £95 for an initial appointment with us. This covers any necessary additional diagnostic testing such as X-rays and blood tests.
At Practice Plus Group, we're committed to honest pricing. This means the quote we give you for treatment is the amount you pay. It includes prescriptions, aftercare, equipment used, and any extra complications that may arise.
What's included?
Private consultation and consultant fees from start to finish.
The highest quality care.
A pre-operative nurse review.
Prescriptions, dressings, and equipment.
Anaesthetic.
Any overnight stay in hospital required.
Physiotherapy, pathology, and histology needed whilst admitted.
Any post-operative appointments required.
Please bear in mind, there will be a charge for any diagnostic tests that may be required as a result of your initial consultation with our specialists.
Cost of private surgery in the UK for key treatments
According to recent reports and analysis, Practice Plus Group's fixed prices for treatments are up to 30% less expensive than our closest competitors*. The results are based on the guide prices for Circle Health, Nuffield, Ramsey and Spire. *Based on current cataract prices
Below, we explore the difference in average private medical treatment costs and compare the figures to Practice Plus Group prices.
Knee replacement costs
As a ballpark guide, you can expect to pay anything from £5,000-15,000 for your knee surgery. At Practice Plus Group, our knee replacement surgery costs are among some of the lowest in the UK at just £11,200. This is around £2,000 less expensive than some of our closest competitors. Please note, this figure does not include the £95 initial consultation.
Hip replacement costs
Private hip surgery costs in the UK vary according to the type of procedure needed and your location. Typically, they range from £11,000 – £15,000. Total hip replacement surgery at Practice Plus Group is just £10,720.
Private cataract surgery costs
The average cost of cataract surgery in the UK currently stands between £3,000-4,000 per eye. At Practice Plus Group, you'll need to pay £95 for an initial consultation and £1,995 for cataract surgery, per eye.
How to pay and next steps
You can pay for treatment in the following ways:
Pay for yoursel

f: our

self-pay healthcare

option is available on a pay-as-you-go basis.

Insurance

: patients can also pay for their treatment using

private health insurance

. Accepted insurers include: Aviva, AXA Health, The Exeter, Freedom Health Insurance, General & Medical Healthcare, Healix Health Services, VitalityHealth, and WPA.

Finance

: you can spread the cost of your treatment using our

interest free finance option

. Finance is available over 12 months 0% or longer-term options available from 24-60 months 14.9% APR.
Please note, to be eligible for finance, you or your partner must:
be in full time employment or self-employed
be retired and over 50
be the recipients of a regular and consistent income
have lived in the UK for at least the last three years.
For private treatment enquiries, please call 0333 321 1961 or fill out the form below.
Private hospital prices in the UK – FAQs
Not quite found what you're looking for? Our commonly asked pricing questions could help!
The cost of private surgeries in the UK can vary widely depending on factors. These include the following:
type of surgery
complexity of the procedure
location of the treatment centre
surgeon fees.
Yes. Many private healthcare providers in the UK offer financing options that allow patients to pay for private surgeries on a monthly basis. These financing options allow you to spread the cost of your surgery over time. Through our partner Chrysalis Finance, we offer approved patients a range of funding options to pay for one-off private treatments.
Private surgery can often provide quicker access to treatment. Patients have more control over selecting their surgeon, the hospital where the procedure will take place and the time and date of the procedure. For elective or cosmetic procedures not covered by the NHS, private surgery can be a good option.
The popularity of different types of surgeries can vary over time and across regions. Private orthopaedic surgeries such as knee and hip replacements are common, as is cataract surgery. The most common private treatments at Practice Plus Group are hip replacement, knee replacement, and cataract surgery.
What our patients are saying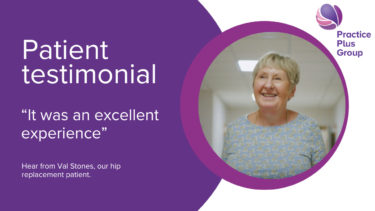 See all reviews
Knee surgery, Plymouth – leading an active life once again
Thanks for performing total knee replacement on me. Due to your excellent skills I am improving daily and leading an active life once again!
by Chris Roberts
Hip surgery, Shepton Mallet – we have saved £6,500
My wife had a total hip replacement yesterday at Practice Plus Group Hospital, Shepton Mallet. They were absolutely brilliant and if like me you maybe needing surgery but on a long waiting list and considering going private, they are definitely worth getting a quote from. We have saved £6,500 by going to them and not another private hospital. Her consultation was 27th May, operation 13th June, home on 14th.
by Mr Antoniou,
Cataract surgery, Devizes – cannot fault the care and attention
My wife recently had a cataract operation here and cannot fault the care and attention given to her by all the staff involved.
by Chris Longdon,
Google
Hip surgery, Barlborough – I would recommend Practice Plus Group without a shadow of a doubt
I was particularly pleased with how well-mannered and attentive everyone was. I had my hip replacement operation at 11.30am and when I came out of surgery, a meal was waiting for me. I was told that if my blood test looked good and the surgeon was happy with me when he saw me at 5pm I could go home that night, and that's what happened. It was seamless.
by Terence Watson
Knee replacement, Southampton – absolutely wonderful
I had a knee replacement in May 2022. I have to say that all of the staff from the consultant, the nursing staff and the entire team were absolutely wonderful.
by Susan Farmer
Cataract surgery, Gillingham – everyone very friendly
I went for my cataract assessment today and found everyone very friendly and I was put at ease about the procedure. I feel very relaxed to know that I'll be in good hands when the time for my surgery arrives.
by Sandra Church,
Google
Hip surgery, Barlborough – aftercare was brilliant!
I went in for my new hip and was out within 3 days! The aftercare was also brilliant – 10/10!
by Peter
Knee surgery, Barlborough – amazing facility
This was my 2nd time as an inpatient at Barlborough for knee replacement surgery and in my opinion you couldn't have this surgery at a better place. It is truly outstanding.
by Joy Lesley Wright
Cataract surgery, Portsmouth – exceedingly courteous and helpful
Appointments staff exceedingly courteous and helpful getting both my elderly parents booked in for appointments on the same day and directly after each other, for eye surgery.
by Paula Stubbs,
Google