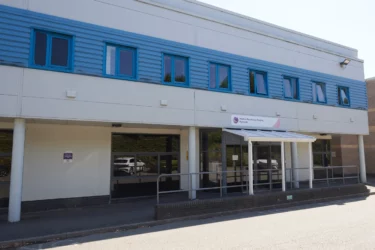 Contact Numbers
Opening Hours
Our opening hours are 7am-6pm Monday to Friday and 8am-6pm on the weekends.
Enquire now
High-quality treatment in Plymouth
NHS and private patients welcome
At Plymouth hospital we create an exceptional experience for all NHS and private patients, with a dedication to delivering the highest standards of quality and safety. We will treat you quickly and support you in recovery, helping you to feel better, faster.
Whether you visit us as a day patient or need a slightly longer period of treatment, you'll be given the best care and the undivided attention of our experienced and professional team.
At Practice Plus Group Hospital, Plymouth, any patient in need of our services is welcome, regardless of location, even if you have an existing health condition, as long as it's safe for us to treat you.
Our clean, modern and comfortable Plymouth hospital specialises in planned surgery for NHS, private and insured patients.
5000

treatments carried out a month
Good

Care Quality Commission rated
100%

clean record for hospital acquired infections
99%

of patients recommend Practice Plus Group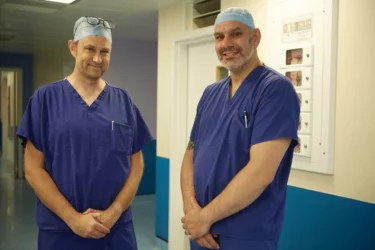 Consultants at Plymouth
Meet our experienced consultants at Practice Plus Group Hospital, Plymouth. Our consistency of care sees your consultant-led treatment team supporting you from start to finish; making your visit as comfortable as possible, and guaranteeing that the treatment you receive is second to none.
View consultants
Meet the management
Life at Practice Plus Group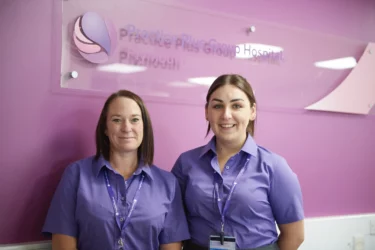 What our patients at Practice Plus Group are saying
See all reviews
Above and beyond
Big shout out to Practice Plus Group Plymouth who went above and beyond to make my day case visit today as comfortable as possible, from the day case nurses to all the theatre staff. Special mention to Carly, Cathy, Amy and Elaine(?) nothing was too much trouble!
by Sue Bentley,
Twitter
Hip surgery – best experience ever for my hip replacement
I had the best experience ever for my hip replacement. Would highly recommend, thank you to all the staff involved throughout
by Franca
Diagnostic imaging – brilliant in every respect
Very polite and helpful staff at all levels. Friendly consultant who explained everything clearly. Extremely efficient x-ray department and choice of treatments.
by Ann Sturtridge
Cataract surgery – fabulous practice
I had 2 cataract operations by the same surgeon and she was excellent! Both eyes are now perfect and operations went without a hitch! Aftercare was superb!
by Anonymous,
Plymouth
Thank you for taking care of me
Thank you for taking such good care of me on 23rd November and putting me at ease.
by Carol Downing,
Thank you card
Hip surgery – at long last I am out of pain
Thank you very much for my TWO successful hip operations at long last I am out of pain and recovering well. Many thanks to you and all your staff. Best wishes.
by Brenda Sutton,
Thank you card
Knee surgery – leading an active life once again
Thanks for performing total knee replacement on me. Due to your excellent skills I am improving daily and leading an active life once again!
by Chris Roberts
Foot surgery – surgery has been completely transformative
Dear Mr Brown, it is almost a year since you performed surgery on my second foot. The first operation being four years prior. I just wanted to write to say a huge thank you to you and all your wonderful team. Surgery has been completely transformative. My life returned to a much healthier lifestyle, long walks, gardening without pain and so much more fun! thank you so much.
by Anne Hobbs,
Thank you card
Gallbladder surgery – kindness and efficiency
Thank you all so much for your kindness and efficiency, caring for me with my recent operation for gall bladder removal, I and my family so appreciate your hard work!
by Hilda Putt
Hip replacement, Plymouth – impressed with everyone and everything
I would just like to say that I was impressed with everything and everyone. From the moment I enquired about private treatment. I felt totally welcomed and put at ease by everyone with whom I came into contact. Whatever the art they played in my treatment. Practice Plus Group Hospital, Plymouth was recommended to me, as was Mr Miller. Not only will I pass on that recommendation, but I will have no hesitation in returning at some time for my second hip replacement. Thank you.
by Gillian Camp,
Thank you card
News and blogs
Practice Plus Group Hospital, Plymouth
Close contacts list