Why refer patients to us?
We use the same governance and accountability procedures and standards as the NHS.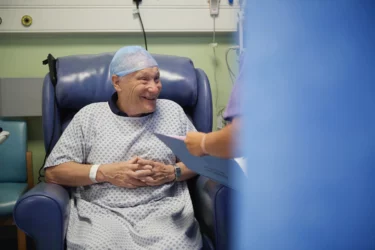 Rest assured your patients will be well looked after
Our aim is to make your patients' care as flexible and convenient as possible. Why refer patients to Practice Plus Group?
Practice Plus Group hospitals and surgical centres provide elective surgery, enabling the NHS to prioritise primary and emergency care. Because of this, our patients are unaffected by NHS cancellations of surgeries.
Our additional capacity helps alleviate pressure on NHS surgery waiting lists which both decreases patient waiting times and reduces the NHS' workload.
Some patients wish to pay for their own care – we offer affordable treatments to self-pay patients while maintaining the same level of quality for everyone, regardless of how their care is funded.
Due to exceptional pain and discomfort, or outstanding work commitments, it may not be feasible for some patients to wait for treatment – we aim to see both NHS and self-pay patients fast.
Our care continues after a patient's surgery. Within a day of treatment we contact the patient to check that they are recovering well – we also inform their GP, letting them know the patient has been discharged.
All Practice Plus Group hospitals and surgical centres are proud to be rated 'Good' or 'Outstanding' by the CQC, and have high levels of patient recommendation.
All of our hospitals and surgical centres employ rigorous cleaning schedules and practice strict infection prevention and control procedures – this keeps our patients safe and the infection rate very low.
Our buildings are accessible to all and many feature free on site parking for patients and their relatives.
If you have any questions please contact us.