Integrated Urgent Care (IUC)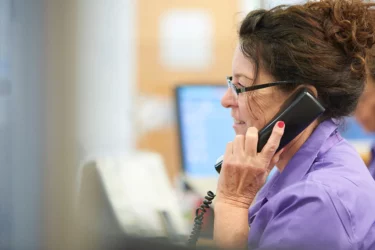 Integrated Urgent Care services
As one of England's largest independent providers of NHS services, we are delivering a new model of Integrated Urgent Care (IUC). The model brings together NHS 111 call centres, clinical assessment, out-of-hours service and other urgent care services. Bringing these services together enables patients to access the right care when they need it – creating a better service for all.
Key information about our IUC service
We have eight NHS 111 contracts which serve a total population of 8.4 million, taking over 2 million calls a year.
In January 2022, following a robust inspection, the Care Quality Commission (CQC) rated our South West 111 centre as 'Outstanding' for the second time in a row. This region encompasses Bristol, Gloucestershire and Somerset, and serves a population of around 2.2 million. It's run by a team of circa 230 staff.
Our OOH services, through eight contracts over 45 different facilities, cover a population of over 8.6 million.
Between April 2020 and March 2021 we delivered 49,379 home visits, 121,602 face to face appointments and closed 232,342 cases with advice.
Between our Suffolk, North East Essex, Surrey and North West London CAS services, we averaged 4,230‬ calls per month in 2021. A total of 220,000‬ across the year. In 2022 with the introduction of our Devon CAS and South West London CAS, that number will rise to 400,000.
We have 18,000 registered patients at our Brighton and Wandsworth GP Practices. We are open until 8pm on weekdays, as well as offering services over the weekends.
We embrace diversity and are proud to tackle health inequalities, as well as handle the more complex health issues. In 2021 Practice Plus Group was certified as a Disability Confident Employer with the award being in place until 2024.
We work with partners across the country to provide the best performing services possible.
Why use Practice Plus Group?
Our Urgent Care Services ensure:
patients are seen in the right place for their health needs, reducing pressure on emergency departments
other healthcare professionals (e.g. district nurses, paramedics, nursing homes) have a direct line to the clinical hub 24/7. This gives them access to expert advice to support the care of their patients
the provision of information, enabling further improvement of urgent and emergency care services. For example, streamlining pathways for the care of under 5s and over 75s to make sure their conditions are managed as quickly as possible, reducing anxiety and the need for them to attend emergency departments
Patient Engagement Group (PEG). PEG provides a way of sharing information. We support and sustain service improvement pathways in partnership with the six boroughs of the South West London (SWL) Integrated Care Boards (ICB).
Working in IUC
Integrated Urgent Care offers lots of varied career opportunities. We have roles for great communicators as well as experienced nurses, paramedics and pharmacists in our NHS 111 services. We also have vacancies for a range of clinical professionals in our Clinical Assessment Service (CAS).
Visit our IUC recruitment pages to find out how you can join our amazing team.
At Practice Plus Group our vision is to deliver "Access to Excellence". This is just as true for our own colleagues as it is for the patients and other professionals we support. Our values are: we treat patients and each other as we would like to be treated; we act with integrity; we embrace diversity, and we strive to do things better together.