NHS patients
At Practice Plus Group, any NHS patient in need of our services is welcome.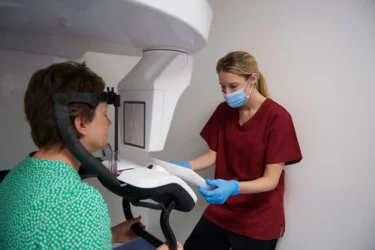 NHS patients
You can be treated at any one of our 10 hospitals regardless of location and existing health conditions – as long as it's safe for us to treat you. It is your choice where you go to be treated in England. Patient choice is a legal right for all NHS patients.
If you require treatment you should be offered a choice of hospitals and services by your GP – this can include private hospitals. One of the main reasons that patients may ask to switch hospitals is waiting times. If your closest hospital waiting list is unsatisfactory, you can switch to a different one. You can ask to be referred to a different hospital if you have to wait longer than 18 weeks for non-urgent treatment.
If you would like to choose one of Practice Plus Group's hospitals for your treatment, simply follow our step by step guide on how to get referred and if you have any questions please do take a look at our FAQs from patients. If you don't find what you are looking for, please do not hesitate to contact us with any queries you may have.
See what our patients are saying about us
See all reviews
Truly wonderful
I had an op today in Emerson Green and wanted to say how well I was looked after and cared for. Truly wonderful. Thank you
by Laura Steer,
Twitter
Above and beyond
Big shout out to Practice Plus Group Plymouth who went above and beyond to make my day case visit today as comfortable as possible, from the day case nurses to all the theatre staff. Special mention to Carly, Cathy, Amy and Elaine(?) nothing was too much trouble!
by Sue Bentley,
Twitter
Incredibly slick and super friendly
Despite the most huge system demand, strikes and winter pressures the NHS still carries on, so grateful to Practice Plus Group for looking after me yesterday. You were incredibly slick, super friendly and got the job done!
by Joanna Masters,
Twitter
Process was very quick and well organised
The whole process was very quick and well organised from first contact to being discharged. The initial telephone contact allowed me to ask questions and be directed to the clinic which would best suit my needs. Everyone involved was very friendly and quickly put me at ease. I was always explained choices and not pressured into any response. My concerns were fully answered enabling me to feel confident to go ahead. I loved my consultants humour during the procedure keeping me involved and relaxed. My eyesight is amazing now with no need to wear glasses so I'm extremely satisfied.
by Mary Hillman,
Google
Tremendous skill, diligence and care
Tremendous skill, diligence and care at this hospital. They deserve their reputation as one of the best facilities in the UK for hip and knee replacements.
by Ian Keys,
Google
Superb care
Attended for a colonoscopy, superb care from Siobhan the receptionist through to Kemi, the lady who carried out the procedure and everbody inbetween, such care and dedication rarely seen these days. Thanks to all, you made a daunting afternoon much, much better!!!
by Dianne Keys,
Google
Friendly, caring and professional
Attended for cataract surgery and cannot fault the care I received from every single member of staff. Following a warm and friendly welcome at reception, pre surgery checks were carried out in a friendly, caring and professional manner with everything clearly explained – this carried through to the actual procedure where theatre staff were so kind and reassuring.
by Yvonne Akrill,
Google
Outstanding
A big thank you to Mr Sadek and his team for the outstanding way they looked after me during my hernia surgery. Everyone was so friendly and polite and looked after me so well. Thank you all of you.
by Richard Lewis,
Google
Exceedingly courteous and helpful
Appointments staff exceedingly courteous and helpful getting both my elderly parents booked in for appointments on the same day and directly after each other, for eye surgery.
by Paula Stubbs,
Google
Very impressed
Very impressed by this team. All appointments ran to time and all staff empathetic, skilful, kind and friendly. Thank you for all the team who dealt with my hernia surgery yesterday, it was a pleasure to meet you all. Great sense of team work and moral, and all communication and managing of expectations top notch.
by Jon "Jev" Ev,
Google
Looked after all way through
The Endoscopy staff were fantastic put me at ease straight away. Dr Patel was so nice and what I thought was going to be a horrible experience wasn't. Looked after all way through.
by Jane Morgan,
Google
Would recommended to everyone
Had hip op recently. Big thanks to Mr Flood..Maria..and all the hospital staff they treated me with care ..respect thank you all for being there for me. Would recommended to everyone.
by Arthur Syson,
Google
Service was excellent
The service was excellent and all the staff were kind and considerate and helpful during my stay. It's never nice having to have a operation but they made the experience a lot better and I was very impressed.
by Alan Cole,
Google
Reassuring and kind
All the staff were amazing friendly and helpful. They were understanding, reassuring and kind. The receptionist, the dental surgeon and the dental nurse were all fantastic. I can't thank you enough for how kind you all were.
by Liberty Davies,
Google
From start to finish my treatment by all was amazing
I had a Partial Knee Replace at this hospital on the NHS. From start to finish my treatment by all was amazing. I cannot praise the care I had enough. The nurses are so friendly and caring. The hospital was very clean. A good choice of food. Highly recommend.
by Audrey Hartley,
Google
Really felt looked after
Staff were absolutely fantastic, really felt looked after. I was nervous about my procedure and the staff were reassuring and kind.
Procedure was smooth and painless. Many thanks all!
by Hugh Jego,
Google
So much care and compassion
I recently had a total knee replacement operation at Shepton Mallett hospital, and there are not enough words to describe what an amazing place it is.
Everyone I came into contact with from the beginning of my referral has been so positive. So much care and compassion, I cannot thank you all enough you are all angels.
by Carol Ison,
Google
Could not fault the care, thank you
Had a cystoscope done this morning I could not fault the care and the support from Christopher and the nursing team thank you from an anxious patient.
by Gemma Hopkins,
Google
So caring
I found the hospital to be very clean, staff could not be more helpful and Nurses and ward team so caring nothing to much trouble, food first class, would recommend this hospital. Thank you to all the staff.
by John Coulthard,
Google
Best experience ever for my hip replacement
I had the best experience ever for my hip replacement. Would highly recommend, thank you to all the staff involved throughout
by Franca
Highly recommend
I highly recommend Practice Plus Group! I had eye surgery yesterday and already can see clearly.
by Dave
Aftercare was brilliant!
I went in for my new hip and was out within 3 days! The aftercare was also brilliant – 10/10!
by Peter
Thank you
I just wanted to thank everyone at your urgent treatment centre, the receptionist was lovely, we were seen very quickly despite it being very busy. Thank you again.
by Natalie Cossar,
Facebook
Fabulous practice
I had 2 cataract operations by the same surgeon and she was excellent! Both eyes are now perfect and operations went without a hitch! Aftercare was superb!
by Anonymous,
Plymouth
Amazing facility
This was my 2nd time as an inpatient at Barlborough for knee replacement surgery and in my opinion you couldn't have this surgery at a better place. It is truly outstanding.
by Joy Lesley Wright
Absolutely wonderful
I had a knee replacement in May 2022. I have to say that all of the staff from the consultant, the nursing staff and the entire team were absolutely wonderful.
by Susan Farmer
A big thank you
I had a day case hernia repair yesterday and wish to thank all staff involved. Throughout the experience I felt reassured, fully informed and cared for.
by Kevin
Brilliant in every respect
Very polite and helpful staff at all levels. Friendly consultant who explained everything clearly. Extremely efficient x-ray department and choice of treatments.
by Ann Sturtridge
Brilliant service
I visited this walk in centre today and although there were quite a few people already there I was in and out in 15 minutes. They were very efficient and helpful.
by Anonymous
Amazing staff
Went here as a nervous patient. From the moment I arrived I was made to feel welcome and looked after extremely well. Practice Plus Group staff are just amazing and caring.
by M K
Friendly and highly professional
October 2020 I had total knee replacement, NHS referral. My experience was excellent…everyone was caring, listening and very professional.
by Anonymous
No pain at all
Best dentist I've ever been to ! Had to have 2 teeth removed this week ! A very professional team took care of everything!
by Mrs Hazel Showering
Fantastic care
I would recommend Practice Plus Group and would use them again if I need to. So, so grateful to all of them.
by Fran Taylor
Well organised from start to finish
Well organised from start to finish. Staff so friendly & reassuring. Excellent facilities & a really personal service provided.
by John Telcot,
NSRF Specialists
Nothing was too much trouble
The staff were so friendly & put me at ease. Lovely clean hospital.
by Jennifer
5000

treatments carried out a month
Outstanding

or 'good' ratings by CQC
100%

clean record for hospital acquired infections
99%

of patients recommend Practice Plus Group