Guide
Hip replacement surgery in Plymouth – a patient guide
If you need a hip replacement in Plymouth, you might be in the process of doing some research. Plymouth boasts a long list of medical options capable of carrying out the procedure, but which is likely to be the best to accommodate your needs? And how specifically can you find the best facility for you? Our dedicated article aims to help you find all the information you need.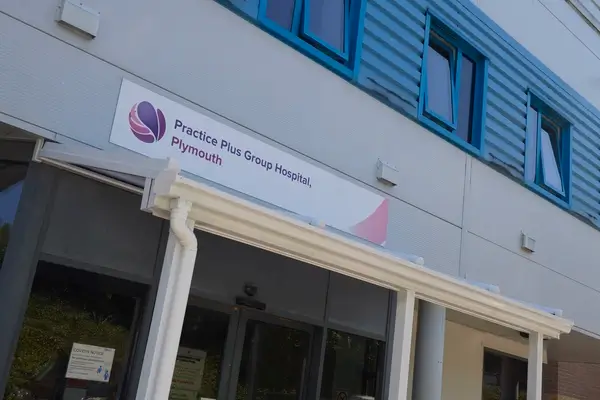 Which is the best hospital for hip replacement surgery in Plymouth?
While Plymouth and the surrounding area boasts a range of medical options, Practice Plus Group Hospital, Plymouth (formerly known as Peninsula NHS Treatment Centre) can accommodate your needs. Whether you're a NHS or private patient, we offer a range of treatment options including hip replacement surgery. If you choose Practice Plus Group, our team of highly qualified consultants and nurses will be with you on every step of your healthcare journey.
Hip replacement success rates in Plymouth
According to a patient satisfaction report for May 2023, 99.6% of 503 patients surveyed indicated that their experience at Practice Plus Group Hospital, Plymouth was 'Good'.
Since 2005 the team at Practice Plus Group Hospital, Plymouth have carried out over 8,000 hip procedures.
Plymouth hip replacement procedures
At Practice Plus Group Hospital, Plymouth, the following hip surgery procedures are available:
total hip replacement
hip revision
tendon injection
surgical pin removal.
More information is available on our hip replacement page.
How hip replacements at Practice Plus Group Hospital, Plymouth work?
The signs you need a hip replacement may not be obvious to all, so identifying the reasons behind your hip pain is a good starting point for your research. If you subsequently suspect you do need a hip replacement, a GP referral is also required to get the process underway. Once you have this, you'll be able to book an initial consultation during which your symptoms and treatment options will be discussed at length. If surgery is the right option for you, a date for the procedure will be set.
How much is hip replacement surgery in Plymouth?
At Practice Plus Group, the cost of our hip replacement procedures varies depending on the type of surgery needed.
A full breakdown of Plymouth Hospital treatment prices is available on our website.
Plymouth NHS hip replacement
Patients wishing to pursue hip replacement surgery through the NHS can be accommodated at Practice Plus Group Hospital, Plymouth. These patients will need a referral from their GP.
Private hip replacement at Plymouth
Private hip replacement surgery is available at Practice Plus Group Hospital, Plymouth. Opting for private treatment provides you with two options: you can choose to pay for yourself in one lump sum or through our finance options.
There is also the option of covering the cost of your treatment through health insurance. Be sure to check with your insurance provider to see whether hip replacement surgery is covered in your policy.
How long is the waiting list for a hip replacement in Plymouth?
The current waiting time for orthopaedic treatment at University Hospital Plymouth NHS Trust is around five months. Meanwhile, the average waiting time for private hip replacement at Practice Plus Group Hospital, Plymouth is just four weeks. This is in line with our Four Week Pledge initiative in which we aim to deliver surgery within four weeks of a patient's initial appointment.
Choosing the best hip replacement surgeon in Plymouth
The orthopaedic surgeons in Plymouth are among the best in the UK. So, regardless of the type of treatment you need, you'll be in very safe hands. For more information about the qualifications and experience of our surgeons, take a look at our Consultants page.
Top hip replacement surgeons at Practice Plus Group Hospital, Plymouth
At Practice Plus Group Hospital, Plymouth, all our consultants boast a wealth of experience and excellent records of clinical success.
Reviews and testimonials for hip replacements in Plymouth
We're committed to providing all our patients with successful outcomes. But don't just take our word for it! The patient testimonials below will give you an idea of the standards we uphold at Practice Plus Group Hospital, Plymouth.
"I had the best experience ever for my hip replacement. Would highly recommend. Thankyou to all the staff involved throughout.

Franca, hip replacement patient at Practice Plus Group Hospital, Plymouth
Life as a patient at Practice Plus Group Hospital, Plymouth
So, you've had your initial appointment and have booked in for hip surgery. What next? In the time between now and your treatment, there are a few things you can do to prepare.
Preparing for hip surgery in Plymouth
A few days before your surgery, you'll get a phone call from your surgical team. This is to check you are well and to answer any remaining queries you may have. On this call you will also be advised when to stop eating and drinking prior to your surgery. You'll also be given your admission time.
Pre-operative guidelines and precautions for a successful hip procedure
There are a handful of things you can do to prepare for hip replacement surgery. These include removing loose rugs and other trip hazards from around your home, strengthening the muscles around your hip, and organising for family and friends to help out as you recover.
Factors to consider when selecting a hip replacement surgeon
There are a number of factors to consider when choosing the right surgeon for your procedure. Qualifications, specialisations and experience should all be taken into account. You should also keep your eyes and ears peeled for recommendations from past patients. These can provide valuable insight when making your decision.
Recovery and hip surgery aftercare at Plymouth
After your treatment, you'll be provided with details of your follow-up care. This will include comprehensive coverage of your post-operative support, the dates of follow-up appointments, and any necessary physiotherapy to help with your new artificial hip. We will also inform your GP when you've been discharged from the hospital.
Visiting information
Parking at Practice Plus Group Hospital, Plymouth is free of charge for patients and visitors.
Wi-Fi is free for patients and visitors. The surgical centre is also accessible for wheelchair users. Each patient also has access to a television, which is free of charge too, so you won't miss your favourite programmes!
There is a café on site serving a selection of hot and cold food and drink options.
Plymouth hip joint replacement FAQs
Not quite found what you're looking for? Our Plymouth joint replacement FAQs might be able to help.
The procedure itself won't be painful as you'll be under general anaesthetic. Once the surgery is over, you'll be taken to recovery where painkillers will be provided to help you manage any discomfort. You'll likely feel some pain in the days and weeks following your procedure. This can be managed with physiotherapy and painkillers.
It's likely you'll be encouraged to get back on your feet and walk as soon after surgery as possible. This could even be on the same day.
This is a difficult question to answer and takes into account a few different factors. Most patients choose to have their surgery in the autumn which means they can recover during the winter months. The cons of this approach are longer waiting lists and the increased possibility of hazardous outdoor conditions. On the other hand, those having their surgery in the spring or summer will benefit from shorter waiting times, but are more likely to have to contend with warmer temperatures.
This depends on your healthcare insurance provider. Be sure to check with them first before booking yourself in for an appointment.
Related resources