Blog
Signs you need a hip replacement: Symptoms, causes and treatment
There were 76,337 hip replacement procedures in England between April 2019 to March 2020 (pre-COVID-19 pandemic)1. Of those, 94.5% reported an improvement in health (using the Oxford Hip Score). Hip replacement is a major, yet effective and common operation and over time may become the only way to eradicate pain and improve quality of life. But what are the tell-tale signs you need a hip replacement?
The hip joint is the largest joint in our body, and years of wear and tear, from sports injuries to everyday activity, can all contribute to hip pain. In many cases, the pain will go away with time and can be managed with rest and over-the-counter painkillers.
If those aches and pains aren't going away, you may be asking yourself 'do I need a hip replacement?'
Private hip replacement surgery at a glance:
Surgery within 4-6 weeks
Costs just £10,720
Available at a range of our UK locations
Finance options available
Call us on: 0333 321 1961
How do I know if I need a hip replacement?
How do you know when you need hip replacement surgery? Here are some signs to look out for and to discuss with your GP:
persistent or recurring pain in and around the hip joint
or:
increasing pain, discomfort and immobility from a previous hip injury (such as a fractured pelvis, hip fracture or joint damage)
difficulty exercising
activity related pain and stiffness
limited mobility
disturbed sleep
noticeable changes in the hip joint
This is a non-exhaustive list, if you are in any doubt, consult with your GP.
Signs and symptoms of needing a hip replacement – a closer look
Significant pain in and around the hip joint
Whilst hip pain can be focussed around the joint area, it is not always isolated to the hip alone. The pain is commonly felt in the groin but pain can also refer into the front of the thigh, back and knee joint. 20% of hip pain can actually appear as knee pain.
There are people who have osteoarthritis that get very little or no pain at all. In more severe cases the pain can wake people during the night.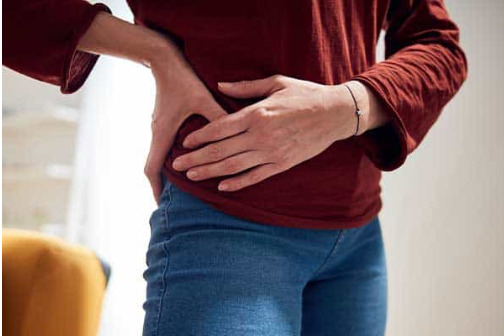 Swelling and stiffness in the hip and knee
Your hip may feel stiff after rest (such as sitting for a while or on first getting up in the morning), but this usually eases quickly as you get moving again. People with hip osteoarthritis often notice that their hip may not move as freely or as far as normal.
Difficulty or lack of mobility for everyday tasks
Due to pain, swelling and stiffness you may find you have difficulty walking, kneeling, bending over, managing stairs and getting in and out of chairs. This can cause problems with everyday activities such as bending forwards to reach your feet to put socks on or to cut your toenails. Weight bearing joints such as knees and hips can give way at times because the supporting muscles have weakened.
Exercising can become more difficult due to limitations in your mobility and discomfort felt whilst participating in sporting activities. A limited range of hip motion may make it harder to join in sports which require a certain degree of bend in the joint, such as football or running. This coupled with aches in your hip during and after exercise may make it tough to keep up the level of exercise you are used to.
Gardening is full of active tasks such as shovelling, walking over uneven surfaces, and squatting/bending. The amount to which you are able to garden without discomfort will vary from person to person. After surgery, it takes typically between three and six months before most people can try gardening tasks, depending on their level of hip pain after gardening.
Sleeping may be difficult due to the pain, especially when lying on your side. Getting in and out of bed can also be challenging due to the stiffness in the hip joint.
Depending on your job, hip pain may impact your working life. Getting in and out of your car, pain whilst sitting – especially if sitting with your legs crossed, may all make the working day more challenging. Considering your environment, planning activities in advance and making sure you have the right pain relief, can make work easier to manage.
Socialising can become taxing, especially if it involves standing or sitting in an uncomfortable position. As pain can become worse towards the end of the day, you may want to factor in timing when organising social events.
Difficulty standing on one leg
If you can't stand on your leg for a minute (even supporting yourself) this may be a sign you need a hip replacement.
Changes in appearance or sound
Joints affected by osteoarthritis can sometimes grate or crack as you move, this is called crepitus. This is nothing to be alarmed about and crepitus can occur in people who have no other symptoms. Sometimes people can visually see wasting in the muscles around the affected joint.
You have hip arthritis
Osteoarthritis is the most common reason for needing a hip replacement, but there are also other conditions that may cause damage to the hip joint such as septic arthritis and rheumatoid arthritis.
You've exhausted other conservative treatment options
Treatments for hip pain depend on the underlying cause. Many cases of hip pain will go away with time and can be managed with rest and over-the-counter painkillers. However, if pain is ongoing you should see your GP who may refer you for treatment or surgery.
Pain relief – getting weak muscles strong and less stiff is usually not a painless process. Do consider simple analgesics such as paracetamol or Ibuprofen (orally or gel rubs). Please speak to your GP or pharmacy for appropriate guidance on pain medication that is right for you.
Steroid Injections – these can be used to treat swollen or painful joints. The hydrocortisone is injected into the joint which is painful. Injections are given by a specially trained doctor – either in a hospital or surgery. Steroid injections can be helpful in the short term but often unless the underlying causes are dealt with eg. weakness/tightness/overload/postures then symptoms are likely to reoccur.
Exercise – joints need to be exercised regularly to keep them healthy. Exercise has been shown to help people with osteoarthritis and can reduce the symptoms. You will need to undertake a combination of aerobic exercises and specific hip exercises.
Aerobic exercises such as swimming, cycling, and walking are all good options to consider. Water-based exercise is particularly helpful as the water reduces the load on your joints. Pilates and yoga can also be helpful. The type of exercise that suits you will depend on the level of your symptoms and any other health conditions you have.
Physiotherapy – you can find and watch recommended physiotherapy exercises on our Pocket Physio app.
What is a hip replacement?
Hip replacement surgery, also known as total hip replacement or total hip arthroplasty, is an operation that replaces worn or damaged sections of the hip with an artificial hip joint. The operation can be carried out under general or spinal anaesthetic. Your surgeon will make an incision on the side of your hip, remove the damaged hip joint and replace it with an artificial one. The surgical procedure usually takes between one and one and a half hours.
A new hip joint can relieve pain, improve the way your hip functions, and make you more mobile – giving you a better quality of life.
What are the first signs you may need a hip replacement?
Everyone is different, but there are some common signs that might indicate you need a hip replacement. These signs include increasing pain that interferes with daily activities, such as walking, driving or standing to prepare food.
What does it feel like when you need a hip replacement?
As mentioned above, you might consider a hip replacement when daily activities become difficult due to pain or other symptoms.
When thinking about the severity of the pain, here are some questions to consider:
Have I been troubled by pain at night in bed?
Have I been limping when walking?
How long can I walk for before the pain becomes severe?
How painful is it to stand when I have been sitting at a table?
Have I had trouble showering or bathing because of the hip?
Depending on whether you can complete these activities easily or whether they are very difficult, you will be able to start thinking about whether a hip replacement is right for you. This list includes examples, a consultation with a surgeon will give you an opportunity to cover off your symptoms in detail and find out the right course of treatment for you.
Where do you feel pain if you need a hip replacement?
Many people suffer from hip discomfort around the thigh, buttock or groin area. This is often exacerbated by the common daily activities we talked about above.
Risks and benefits of hip replacement surgery
Hip surgery can help you get back to doing the things you love. Here are some of the benefits of having a hip replacement:
Pain relief
High success rate
Improved strength and mobility
Long-lasting results
Enhanced quality of life
Despite being a common operation with a high success rate, there are still some risks of hip replacement surgery to consider:
Nerve damage
Risk of dislocation after hip replacement
Risk of DVT and blood clots after hip replacement
Infection
Leg length discrepancy
General wear and tear
How to reduce the risks
There are several things patients can do to minimise the risks from complications. These include:
Maintaining a healthy weight
Avoiding falls
Keep moving
When should I visit my GP?
If you have experienced any of these symptoms and are worried, you should discuss them with your GP. Unless your symptoms are very severe and debilitating, your GP is likely to first recommend pain relief and/or physiotherapy before suggesting an operation, but if and when they agree that you need a hip replacement you can ask to be referred to us for your treatment – we are part of your choice for NHS treatment.
Find out about hip replacement waiting times in our blog.
If you are exploring the option of paying for yourself, you can choose to pay for your treatment via our self-pay healthcare option. You will need an open referral letter from your GP (we can help you with this).
Your initial consultation with us is just (from) £95 and our pricing structure is transparent. Because we don't include all of the costly extras you may associate with private hospital treatment, paying for yourself could cost you considerably less than you might imagine too. There are also financing options available, to help you spread the cost of private surgery.
Patient testimonial
"I went in to the centre in so much pain and walked out, on crutches, two and a half days later pain free – it was remarkable. I wouldn't hesitate to recommend Barlborough Hospital to anyone needing hip treatment."

Geoffrey Oldknow, Practice Plus Group hip patient
Our team is dedicated to delivering high-quality treatment to our patients while also ensuring they feel as comfortable as possible throughout their stay with us.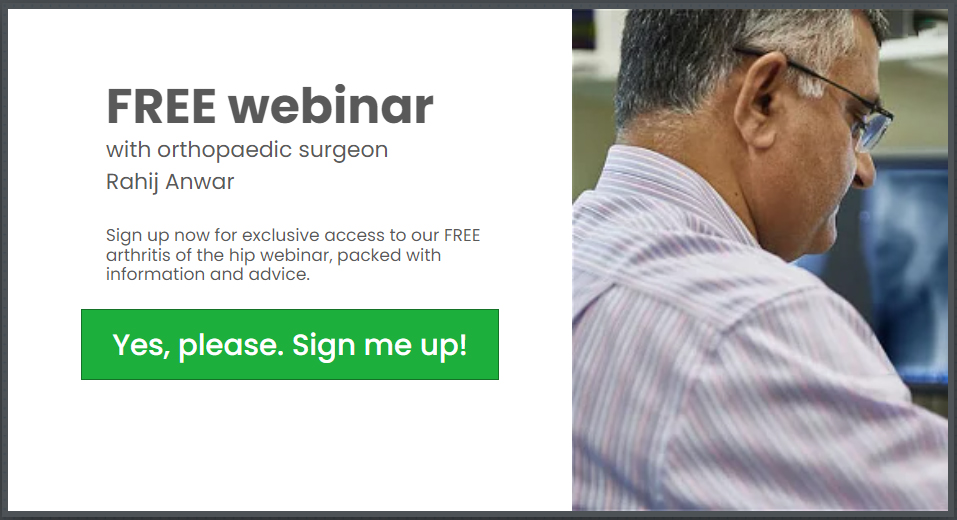 References:
1 Provisional Patient Reported Outcome Measures (PROMs) in England for Hip and Knee Replacement Procedures (April 2019 to March 2020)
See all reviews
Hip surgery, Barlborough – aftercare was brilliant!
I went in for my new hip and was out within 3 days! The aftercare was also brilliant – 10/10!
by Peter
Hip surgery, Plymouth – at long last I am out of pain
Thank you very much for my TWO successful hip operations at long last I am out of pain and recovering well. Many thanks to you and all your staff. Best wishes.
by Brenda Sutton,
Thank you card
Hip surgery – best experience ever for my hip replacement
I had the best experience ever for my hip replacement. Would highly recommend, thank you to all the staff involved throughout
by Franca
Hip surgery – tremendous skill, diligence and care
Tremendous skill, diligence and care at this hospital. They deserve their reputation as one of the best facilities in the UK for hip and knee replacements.
by Ian Keys,
Google
Hip surgery, Shepton Mallet – we have saved £6,500
My wife had a total hip replacement yesterday at Practice Plus Group Hospital, Shepton Mallet. They were absolutely brilliant and if like me you maybe needing surgery but on a long waiting list and considering going private, they are definitely worth getting a quote from. We have saved £6,500 by going to them and not another private hospital. Her consultation was 27th May, operation 13th June, home on 14th.
by Mr Antoniou,
Hip surgery, Southampton – would recommended to everyone
Had hip op recently. Big thanks to Mr Flood..Maria..and all the hospital staff they treated me with care ..respect thank you all for being there for me. Would recommended to everyone.
by Arthur Syson,
Google
5000

treatments carried out a month
Outstanding

or 'good' ratings by CQC
100%

clean record for hospital acquired infections
99%

of patients recommend Practice Plus Group