Guide
What is total hip replacement surgery?
Hip replacement surgery is one of the most common orthopaedic procedures in the UK. The surgeon replaces a painful arthritic hip with an artificial joint. This is made from components and combinations of metal, plastic or ceramic.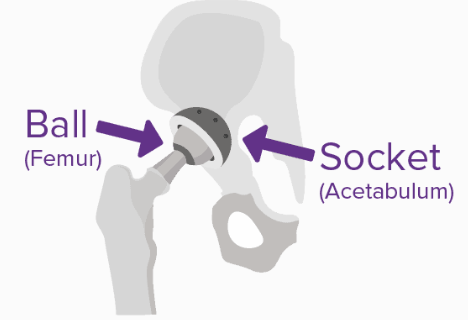 Your hip anatomy explained
The hip is a ball and socket joint which allows you to move your leg during daily activities. For example while walking, going up and down stairs and getting in and out of chairs.
The hip joint has excellent range of movement and is a very stable joint. The ball part of the joint is the femoral head and it is at the top end of the thigh bone (femur). The socket part of the joint is formed by a hollow in the pelvis called the acetabulum. Surrounding muscles support and move the hip joint.
Types of hip replacement surgery
Total hip replacement
This surgical procedure sees the hip joint removed and replaced with a hip implant. It can be performed as a total replacement or a half replacement. It sounds complicated, but hip replacement is one of the most common orthopaedic operations.
Partial hip replacement
Unlike a total hip replacement, this procedure doesn't replace the socket of the hip joint. Instead, the ball of the joint is replaced. This is a common procedure in the elderly, usually following a fracture of the hip after a fall.
Hip revision surgery
Hip revision surgery is sometimes called repeat hip replacement. It involves replacing a patient's artificial hip joint if it has become loose, infected or worn out.
Hip resurfacing
Hip resurfacing is a form of hip replacement surgery that takes less bone from the joint. It's only really effective in younger adults with stronger bones. This procedure has become less common over recent years and is now only practised in a handful of UK hospitals.
Minimally invasive hip surgery
This approach sees the surgeon make one or more shorter incisions over the hip. The aim of this procedure is to reduce pain and speed up recovery time. The operation may not be suitable for all patients.
What's the difference between a hip replacement and a total hip replacement?
A hip replacement is a common orthopaedic procedure where a painful arthritic hip is replaced with an artificial joint.
A total hip replacement is a type of hip replacement where the hip joint is fully replaced.
Surgical methods
Posterior hip replacement approach
During this procedure, the surgeon will access the hip joint from just behind the femur. This approach means no muscles are cut during the surgery, which allows for a quicker recovery time. Surgeon's advocating for the posterior approach will point to less damage to the muscles as the main advantage.
Anterior hip replacement approach
Access is made through the front of the hip. This is to minimise damage to the surrounding muscles and speed up the recovery time. There has been recent interest in the anterior approach as a muscle-sparing procedure. Surgeons advocating for this approach will point to a faster patient recovery time. There's also the greatly reduced possibility of the patient developing a limp.
Types of hip implants
There are three different types of material used in hip replacement surgery:
metal
ceramic
Polyethylene
What method of hip replacement is the best?
Both the method of replacement and material used in the implant are determined by a number of factors. These include the patient's age, activity level, general heath, and what the surgeon decides as the best course of action.
What happens during hip replacement surgery?
How is total hip replacement performed?
The operation is performed under general or spinal anaesthetic. Your surgeon will make an incision on the side of your hip, remove the damaged hip joint and replace it with an artificial joint.
How long is hip replacement surgery?
The procedure usually takes between one and two hours.
Anaesthesia
Total hip replacement surgery may be performed under epidural spinal or general anaesthesia. The choice is made in consultation with the surgeon and anaesthesia provider.
Hip replacement procedure: step-by-step
Hip surgery on the day – Physiotherapy starts the day of (or the day after) surgery. You will be encouraged to walk and fully bear weight on the operated leg (except in certain circumstances). Other exercises to help with balance and getting in and out of bed happen on the day of surgery or the next morning, depending on your recovery.
After hip surgery –
The average hospital length of stay varies from individual to individual and is dependent on levels of pain and mobility. Once you meet your discharge goals, you will be discharged with crutches.
We practise the Enhanced Recovery Pathway (ERP). This is a modern, evidence-based approach that helps people speed up their recovery following major surgery. With this support you will be mobile enough to go home one or two days after your operation, some people are able to return home on the day of surgery.
Total hip replacement recovery
Generally, after the hip replacement you can return to normal activities without needing to be overly cautious. You should always follow the advice of your surgeon or physiotherapist. They will let you know if you need to observe any specific precautions. If you have been advised to follow hip precautions you may need additional aids like a raised toilet seat, bed raise or chair raise.
Preparations you can make before you come into the hospital for surgery:
Home environment
Consider the space you have around your home. You may need to move furniture to make enough space to get through doorways and passages with a mobility aid
Remove any loose rugs and secure carpets in the home to prevent the risk of falls.
Kitchen
Stock up on easy to prepare meals. If you have a freezer, have a selection of ready prepared meals that you can heat in either a microwave or an oven
Arrange your kitchen so that the most commonly used items are all at worktop level or higher, so that you do not have to bend or twist to reach items
If you do not usually eat in the kitchen, consider having a stool or seat in the kitchen. You may be discharged with walking aids which will have an influence on your ability to carry items when walking. An appropriately placed seat is also good for resting between tasks.
Lounge
If your chair at home is very low you may have a higher one you can borrow from family or friends, which will make getting out of your chair easier.
Household tasks
Arrange for family or friends to help you with heavier household tasks, like hoovering or changing bed clothes.
Personal care
Cut your toenails, as you will not be able to reach them for approximately six weeks after surgery. Be careful not to cut the skin. If this happens then the surgery would need to be delayed until the wound has healed. This is to prevent any infection hindering your recovery process after the surgery
Place clothes and toiletries in drawers and on shelves around waist height to avoid bending or twisting for these items.
Transport home
Think about who can collect you following your stay in hospital. It should be safe for you to travel home as a passenger in a car.
Hip replacement surgery costs
| | Initial consultation | Diagnostic investigations | Main treatment | Post-discharge care | Total |
| --- | --- | --- | --- | --- | --- |
| Hospital fees | £95 | (X-ray) included | From £9,720 | Included | From £9,720 |
| Consultant fees | Included | Included | Included | Includes one follow-up appointment and physiotherapy – care package | – |
| Guide price | £95 | Included | From £9,720 | Included | From £9,720 |
Questions to ask before hip surgery
How painful is a hip replacement?
You can expect some post-operative pain following a hip replacement. The pain is manageable with the use of occasional over-the-counter medications.
How many hip replacements can you have?
A modern artificial hip should last for ten to 15 years. Occasionally, the new joint can wear out within that period. If this happens then hip revision surgery is needed.
What can you never do after a hip replacement?
Following your hip surgery, there is a small risk of dislocating the new joint. The main risk is in the first six weeks when the muscles are at their weakest. This is why it is important to regularly exercise to strengthen the muscles and to support the hip.
Here are some recommendations to minimise damage to your new hip in the first six weeks:
do not cross your legs either in sitting, standing or lying
gently lower yourself onto your chair or toilet with your operated leg out in front
do not lean forwards once you are sitting, you must not flex your hip over 90 degrees. Your knees should remain lower than your hips when sitting
do not try to reach your feet or stretch up to reach high levels
sit in a high arm chair. Use your hands to assist you in sitting and rising from the chair
no twisting or pivoting on the operated leg
do not lift heavy objects.
persistent or recurring pain in and around the hip joint. Often described as groin or buttock pain. You may also experience referred pain in your knee
activity related pain and stiffness limiting your mobility in walking, managing stairs and getting in and out of chairs
disturbance of sleep due to pain.
Is total hip replacement considered major surgery?
Total hip replacement surgery is a major surgery with potential risks. It is important to discuss the benefits and risks of hip surgery with your surgeon.
What tests do I need to do before hip surgery?
You may be invited to attend a pre-operative assessment to make sure you are fit enough for surgery. You will be asked about your health and medical history including any previous operations and any medication you are currently taking.
Is total hip replacement right for you?
The causes and signs
A hip replacement is recommended for patients whose hips have become so painful that it interferes with everyday living.
Some common reasons why a hip might become damaged include:
Osteoarthritis
Rheumatoid arthritis
previous injury to and around the hip bone.
The benefits
Improved mobility and long-lasting results are key advantages, but the main benefit is pain relief. An arthritic hip can affect all areas of your life. Easing the pain following successful surgery can provide immediate benefits and a better quality of life.
The risks
So, what are the risks? Despite being a common operation, there are still some risks to consider.
During the operation, nerve damage and excessive bleeding are potential risks that should be taken into account.
Although uncommon, in the initial period following surgery, dislocation of the new hip joint can occur. This usually requires further surgery. Deep Vein Thrombosis and blood clots are also a risk post-surgery. Blood-thinning medication and compression socks are provided during the recovery process. If a patient experiences hot, reddened or hardening areas of their leg, they should contact their doctor immediately.
Infection is also an unlikely, but potential risk. Hip replacement surgeries take place in ultra-clean operating theatres, but infections can and do occur. In the event of infection, most can be managed with antibiotics with the need for further surgery very rare.
Other long-term risks of hip replacement surgery are mobility limitations and a change in leg length (Leg Length Discrepancy). Mobility limitations affect almost all patients during the recovery process. Leg Length Discrepancy is another risk to consider, and often requires managing through use of in-soles.
General wear and tear is another long-term risk to consider. Following a successful recovery process however, patients should expect their new hip to last between 10-15 years. Some last much longer while others need medical intervention much sooner, but 10-15 years seems to be the life expectancy of a new hip.
What to look for in a healthcare provider
When preparing for hip replacement surgery Choosing where to have your NHS surgery or treatment can be difficult. Deciding what is important to you is the first step:
Waiting times: How long will I have to wait for my surgery?
Infection rates: Which hospital has the lowest infection rates?
Patient satisfaction: What do other patients think?
Consultants: Which consultant would be the best for me?
Location and parking: How far is the hospital from my house and is there parking?
Quality of care: Which hospital would provide the best care?
Cost: How much will treatment cost and what is included in the treatment package
All, or some, of the factors above might be important to you when deciding which hospital to choose for your surgery.
At Practice Plus Group we're here to help. Contact us to discuss having your private total hip replacement at one of our CQC rated 'Good' or 'Outstanding' hospitals.
If you'd like to find out more, or get started, call one of our friendly advisors on 0330 162 7979 or complete our self-pay healthcare enquiry form.
---
Our team is dedicated to delivering high-quality treatment to our patients while also ensuring they feel as comfortable as possible throughout their stay with us.