Guide
Hip replacement surgery in Derbyshire: a patient guide
If you need a hip replacement and live in the Derbyshire area, you might be in the process of researching hospitals and medical centres. There's likely a whole list of options that can accommodate your needs, but you need to consider what works best for you. Take a look at our article dedicated to hip replacement surgery in Derbyshire to find all the answers you're looking for.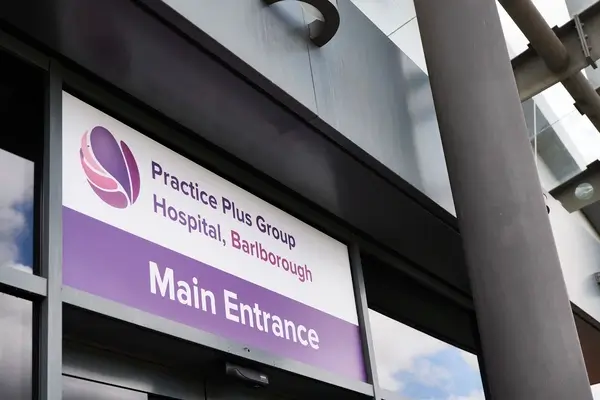 Which is the best hospital for hip replacement surgery in Derbyshire?
Derbyshire offers a range of high-quality healthcare options to accommodate your needs. However, if you ask us a question like that, we can't help but give an unashamedly biased answer. Whether you're a private patient or seeking care through the NHS, Practice Plus Group Hospital, Barlborough offers a range of treatment options. From diagnostic imaging to knee replacement, our team of highly qualified consultants and nurses will be with you on every step of your healthcare journey.
Hip replacement success rates and statistics in Derbyshire
According to a patient satisfaction report for March 2023, 98.2% of 553 patients surveyed indicated that their experience at Practice Plus Group Hospital, Barlborough was 'Good'.
Derbyshire hip replacement procedures
At Practice Plus Group Hospital, Barlborough, the following hip surgery procedures are available:
total hip replacement surgery
hip revision surgery
hip injections.
More information is available on our hip replacement page.
How hip replacements at Practice Plus Group Hospital, Barlborough work
If you suspect you need a hip replacement and you're experiencing signs you need a hip replacement, you will need a GP referral for an initial consultation. One of our experienced orthopaedic consultants will discuss your symptoms and all available treatment options. If hip replacement surgery is the right option for you, a date for your operation will be set.
How much is hip replacement surgery in Derbyshire?
The cost of hip treatment at Practice Plus Group varies depending on the type of surgery needed.
A full breakdown of Barlborough Hospital treatment prices is available on our website.
Barlborough NHS hip replacement
Hip replacement surgery is available at Barlborough hospital through the NHS. If you'd like to have your treatment through the NHS, you will need a referral from your GP.
Private hip replacement operations at Barlborough
Private hip surgery is also available at Practice Plus Group Hospital, Barlborough. You can choose to pay for yourself in one lump sum or through our finance options.
The cost of your treatment can also be covered through health insurance. You will need to check with your insurance provider to see whether this type of treatment is covered in your policy.
How long is the waiting list for a hip replacement in Derbyshire?
While the NHS waiting list at Chesterfield Royal Hospital and University Hospitals of Derby & Burton is around 23 weeks, the average waiting time at Practice Plus Group Hospital, Barlborough is just 13.7 weeks.
See the RTT Waiting Times Tracker for more information.
In Derbyshire overall there are currently around 16,500 people on the orthopaedic waiting list.
For private hip replacement surgery at Practice Plus Group Hospital, Barlborough, we promise appointment to surgery in 4 weeks. Find out more about our 4 Week Pledge.
Choosing the best hip replacement surgeon in Derbyshire
Whether you're looking for hip, shoulder or knee replacement, orthopaedic surgeons in Derbyshire are among the most experienced in the country. Meet the consultant team at Practice Plus Group Hospital, Barlborough.
Top hip replacement surgeons at Practice Plus Group Hospital, Barlborough
At Practice Plus Group Hospital, Barlborough, our surgeons boast a wealth of experience and knowledge that will benefit you from the moment you step through our doors.
Our consultants page provides a list of Practice Plus Group surgeons in Barlborough, detailing their qualifications and experience.
Reviews and testimonials for hip replacements in Derbyshire
At Practice Plus Group Hospital, Barlborough in Derbyshire, we pride ourselves on delivering successful outcomes for our patients. But don't just take our word for it. Terence's story details his experiences with Practice Plus Group and how his hip replacement at Barlborough Hospital has given him a renewed quality of life.
Life as a patient at Practice Plus Group Hospital, Barlborough
So, you've had your initial consultation and you need to undergo surgery. What happens next? Read on to find out what to expect from the moment you walk through the door of Barlborough Hospital.
Preparing for surgery
To prepare for your hip replacement surgery, in the weeks leading up you'll be given physiotherapy exercises. These are designed to strengthen your hip muscles, giving you the best chance at a full and speedy recovery.
A few days before your surgery, you'll get a phone call from your surgical team. This is to check you are well and to answer any remaining queries you may have. On this call you will also be advised when to stop eating and drinking prior to your surgery. You'll also be given your admission time.
About your hospital stay
You will be admitted to our Inpatient Ward where we have single-bedded, double-bedded and four bedded bays. Your allocated bay will only have patients of the same sex.
For hip replacement patients, we use the Enhanced Recovery Pathway (ERP), a modern, evidence-based approach that helps people recover more quickly after having major surgery. This can make a patient's stay significantly shorter, while reducing the risk of deep vein thrombosis (DVT) and infections.
Hip replacement patients at Barlborough stay on average one night, with some patients able to leave the same day (see below) and others typically staying one or two nights.
If patients feel unwell prior to their surgery date or experience changes in their general health, they should contact the hospital for further advice.
Recovery and hip surgery aftercare at Barlborough
When you leave Barlborough hospital after treatment, you'll be given full details of your follow-up care. This includes a comprehensive programme of post-operative support, follow-up appointments, and physiotherapy as required. We will inform your GP when you've been discharged from the hospital.
Visiting information
To help control infection risks (and due to the short hospital stay), visitors are not generally permitted. If patients want visitors, this needs to be arranged with the ward team. More Barlborough hospital visiting information is available on the visitor page.
Important information
Practice Plus Group Hospital, Barlborough is currently rated as "Good" by the CQC with an "Outstanding" rating for Care.
We have had zero cases of hospital-acquired MRSA infections since we opened in 2005.
The hospital also provides ample free parking.
Derbyshire orthopaedic hip replacement FAQs
Not quite found what you're looking for? Our dedicated FAQs can help.
The main benefits of a hip replacement are:
pain relief
improved wellbeing and quality of life
improved mobility, enabling patients to carry out everyday activities.
You should be able to get back behind the wheel about six weeks after surgery.
You'll be able to fly short haul (four to five hours) after around six weeks. You should avoid flying long haul for at least 12 weeks after your hip replacement.
We provide expert physiotherapy at Barlborough Hospital in Derbyshire. However, if for any reason you'd prefer to choose your own physiotherapy service, we would request that your GP book you in with your preferred choice.
Only if you've had your surgery via the NHS. If this is the case, you will need to make an appointment with your GP two weeks after your surgery. Patients that have had their treatment privately will need to come back to Barlborough hospital to have their clips or sutures removed.
Yes. At Barlborough hospital, we have a double-bedded room that has been designed specifically to accommodate patients suffering from dementia or would benefit from having a carer/relative stay with them.
In April 2018 we introduced day case procedures for hip replacements. This means that patients can be discharged on the day of their surgery. By March 2023 we had delivered 200 day case hip replacements and 350 day case knee replacements. We have seen a positive response from the patients who have benefited from a shorter hospital stay and recovering in comfortable surroundings.
Related resources