Guide
Waiting times for knee replacement surgery
If you've just been told you need knee surgery, it's likely your thoughts have already turned to when your procedure will take place. According to reports, the waiting time for knee replacement surgery with the NHS is growing and is set to continue doing so. Private healthcare waiting times are much shorter, but with that benefit, you will need to consider the costs of private surgery before making a decision.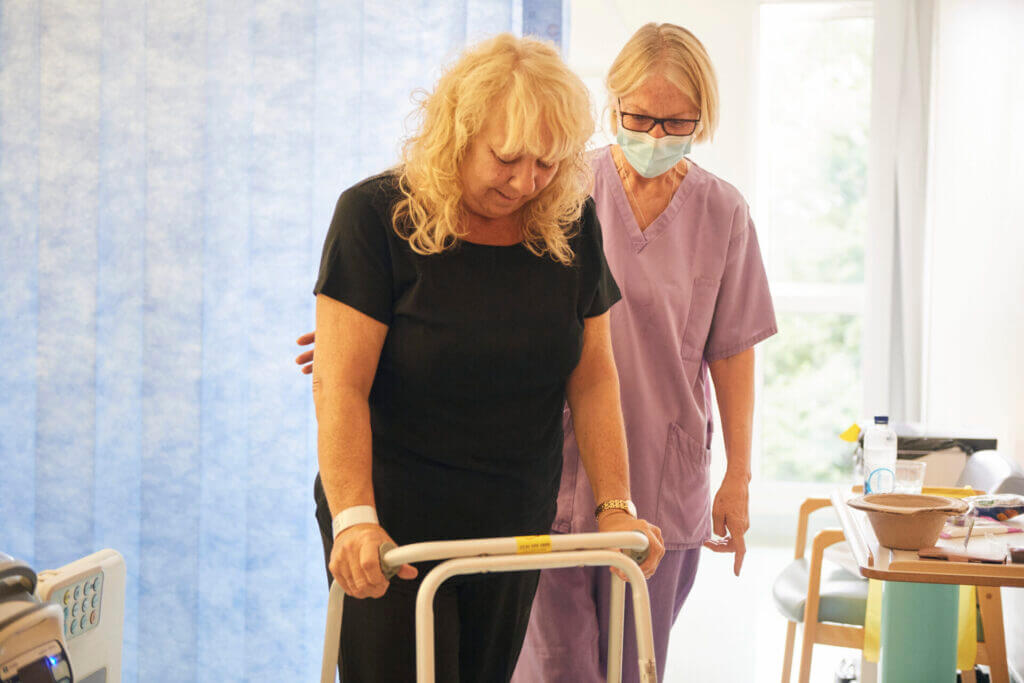 Join us as we take a look at the ins and outs of knee surgery waiting times.
Ready to get your life back on track?
Enquire about knee surgery today, call us now: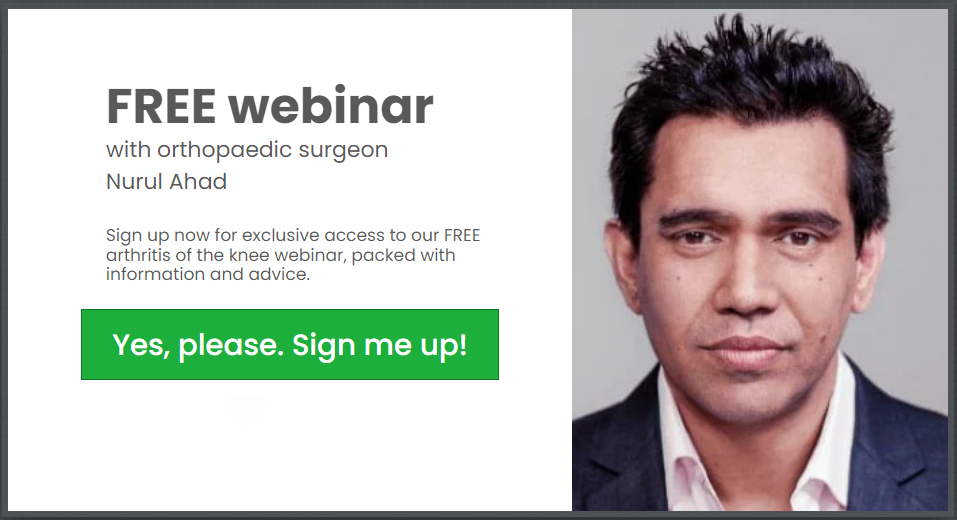 What is the average time for a knee replacement in the UK?
According to a report from the Royal College of Surgeons in England, the number of patients on the NHS waiting list reached six million in 2022. Of these, over 18,500 had been waiting for more than two years for their surgery. Patients facing the longest waiting times are for Trauma and Orthopaedic treatment, such as hip and knee replacements.*1*
In contrast, the average waiting time for private patients is between four and six weeks.
NHS waiting times for knee replacement surgery
For NHS England, the statutory aim is for patients to receive surgery within 18 weeks of their consultation. However, the fallout from the COVID pandemic has seen waiting times grow for NHS patients. For orthopaedic procedures such as joint replacements, the average waiting time for NHS treatment in the UK is currently 35 weeks. This figure increases with some Hospital Trusts reaching 55 or even 85 weeks before patients have their procedure.*2*
Private waiting times for knee replacement surgery
Private health sectors pride themselves on the speed with which they can get patients the treatment they need. The current average waiting time in the UK for private practices is between four and six weeks. This can and does vary depending on the provider and location of the patient.
At Practice Plus, the average waiting time from booking enquiry to private knee surgery is between two and four weeks.
How long is the waiting list for knee replacement?
It's difficult to get an exact figure on the number of patients waiting for knee replacement surgery. The context we can provide is that, according to a 2022 report, the total number of patients on the NHS waiting list is now over six million.
In terms of knee replacement patients, the number of people that have been waiting more than two years for hip or knee replacement surgery is nearly 4,000.
Who has priority on the knee replacement waiting list?
Once on the waiting list, there generally isn't priority given to a certain type of patient. The location of the hospital can affect the waiting time, with patients in some areas of the UK waiting longer than others.
Following consultation, some patients are also seen as being ineligible for surgery. As such, they aren't put on the waiting list.
Impact of the pandemic on waiting times
As mentioned previously, the impact of the COVID pandemic on waiting times has been profoundly negative. COVID patients were prioritised over those needing non-life threatening surgery (such as knee and hip replacements). This meant the waiting list grew, and now stands at over six million.
How to check knee operation waiting times
While there isn't a specific way of checking knee operation times, there are some tools you can use. The NHS has a Waiting List Tracker that allows patients to check current waiting list times in their area. It also allows them to filter by treatment, average waiting times, highest waiting times, and much more. The tool is also capable of providing national-level statistics.
At Practice Plus, the average waiting time from booking enquiry to surgery is between two and four weeks. In contrast, the average waiting time for private patients in the UK is between four and six weeks.
Hospital waiting times near me – compare
As mentioned previously, the NHS Waiting List Tracker is a useful tool for keeping an eye on current waiting lists. You can also compare by area of the UK. For instance, the tool allows you to see that currently, North-East London, Kent and Medway, and Birmingham have the highest waiting lists. On the contrary, Portsmouth, Blackburn and Knowsley currently have the shortest NHS waiting lists in the UK for orthopaedic surgery.
How long should I wait for a knee replacement?
If you're suffering from the signs you need a knee replacement, it's best to seek advice from your doctor. There are alternatives to knee replacement that your doctor may recommend. However, if left untreated, you run the risk of developing the following problems:
weakened muscles and ligaments of the knee
deformity of the area outside the knee joint
limited mobility due to chronic knee pain and loss of function
continued degeneration of the knee joint
reduced success rate of any future surgery.
Can you wait too long to have a knee replacement?
Put simply, the longer you wait for surgery, the greater the risk of developing complications. Waiting too long for surgery can put you at risk of the following issues:
putting strain on other parts of the body to compensate
potential for reduced mobility post-operation
increased pain and lower quality of life.
What can you do while waiting for a knee replacement?
If you have a date for your surgery, you should start to prepare right away. Removing hazards from your home (loose rugs and cables) to prevent falling, placing items within reach, and clearing space for walking with crutches, are all good ideas for preparation.
You might also consider strengthening and conditioning your body prior to surgery. Maintaining a healthy weight also reduces the amount of stress that will be put on the knee joint post-op.
Knee support while waiting for a knee replacement
The use of knee braces has become more common in recent years, as patients seek alternative ways of supporting their injured knees. Different types of knee supports can help patients with differing conditions. For instance, some supports and braces can help reduce the weight and strain passing through the affected part of the knee.
In some cases, this can help delay the need for knee replacement surgery.
Pain relief while waiting for a knee replacement
Anti-inflammatory medication can help significantly. They can help patients manage the pain of a damaged knee, allowing them to carry out daily activities and maintain a level of fitness.
With that said, the frequency of medication consumption should be monitored. Ask your GP or consultant for advice on how often you should self-medicate.
Exercise while waiting for a knee replacement
The best exercises for patients waiting for knee surgery are those that don't place strain on the affected joints. These include the following:
walking
cycling
swimming
cross-trainer
Your physio or doctor will be able to recommend specific exercises and how long you should do them.
How to reduce the wait and get treatment faster
At Practice Plus Group, we follow a consultant led approach. You will be supported throughout by an expert Consultant and a Private Health Coordinator who specialise in hip and knee replacements.
If, after your initial enquiry, you are eligible for surgery (and happy to proceed), you will receive a no obligation appointment. This will cost £95 and includes your x-ray. It will take place at a Practice Plus Group hospital appropriate for you within 2-3 weeks of enquiry.
After a further consultation, your Private Health Coordinator will help arrange your surgery dates. They will also provide you with all of the relevant information you will require to prepare and start treatment. Surgery normally takes place between two and four weeks of your consultation.
Typical recovery time from knee replacement surgery is around six weeks. You will need to rest when you return home and you are likely to feel tired for a while. Pain relief, ice packs, elevation and a programme of rehabilitation are normal. It is also likely you'll need to use crutches for two to three weeks after the procedure.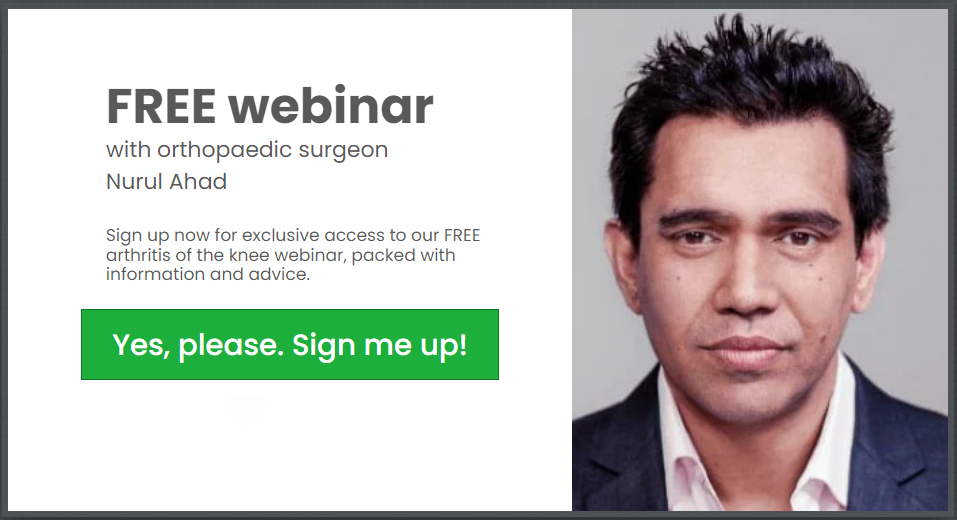 References:
1 https://www.rcseng.ac.uk/news-and-events/media-centre/press-releases/waiting-times-press-notice-november-2021/
2 March 2022 based on data from https://www.myplannedcare.nhs.uk/
5000

treatments carried out a month
Outstanding

or 'good' ratings by CQC
100%

clean record for hospital acquired infections
99%

of patients recommend Practice Plus Group
See all reviews
Knee replacement, Southampton – absolutely wonderful
I had a knee replacement in May 2022. I have to say that all of the staff from the consultant, the nursing staff and the entire team were absolutely wonderful.
by Susan Farmer
Knee surgery, Barlborough – amazing facility
This was my 2nd time as an inpatient at Barlborough for knee replacement surgery and in my opinion you couldn't have this surgery at a better place. It is truly outstanding.
by Joy Lesley Wright
Knee surgery, Emersons Green – friendly and highly professional
October 2020 I had total knee replacement, NHS referral. My experience was excellent…everyone was caring, listening and very professional.
by Anonymous
Knee surgery – from start to finish my treatment by all was amazing
I had a Partial Knee Replace at this hospital on the NHS. From start to finish my treatment by all was amazing. I cannot praise the care I had enough. The nurses are so friendly and caring. The hospital was very clean. A good choice of food. Highly recommend.
by Audrey Hartley,
Google
Knee surgery, Plymouth – leading an active life once again
Thanks for performing total knee replacement on me. Due to your excellent skills I am improving daily and leading an active life once again!
by Chris Roberts
Knee surgery, Barlborough – one day knee replacement
It was fantastic: it all went very well and I was delighted that I had the opportunity to have surgery and be back home the same day. Everyone feels better recovering in their own home. Having met the team, I knew they were kind, professional and supportive. I was relaxed and confident about the surgery and looking forward to being pain-free.
by Adrian Roke
Knee surgery – so much care and compassion
I recently had a total knee replacement operation at Shepton Mallett hospital, and there are not enough words to describe what an amazing place it is.
Everyone I came into contact with from the beginning of my referral has been so positive. So much care and compassion, I cannot thank you all enough you are all angels.
by Carol Ison,
Google