Blog
Questions to ask before knee replacement surgery
Although considered a safe operation by doctors, if you're planning to have knee surgery, it's likely you have a lot you want to discuss. Join us as we explore popular questions to ask before knee replacement surgery.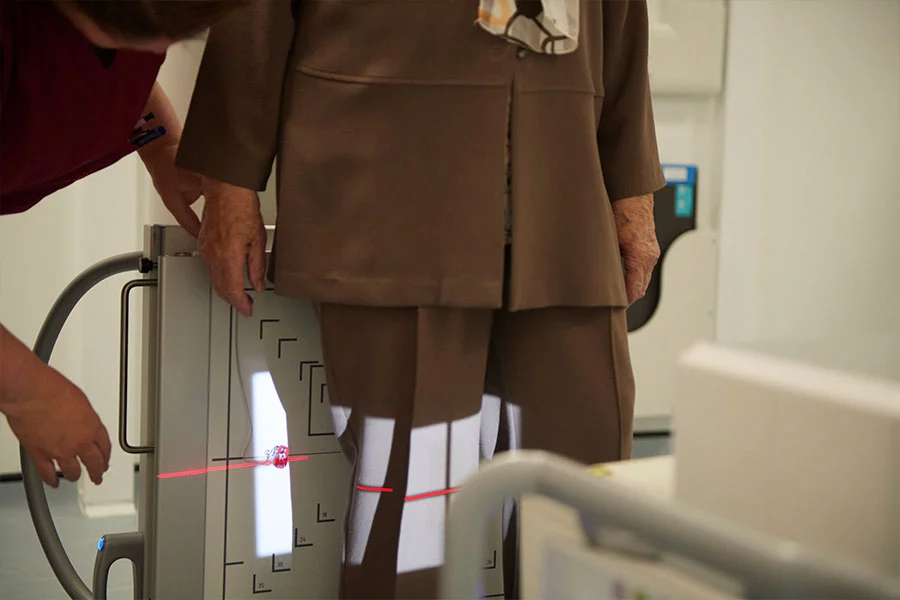 What questions should you ask before a knee replacement?
In the run-up to your knee replacement, we imagine you have a lot of questions. Is a knee replacement right for you? How long will the operation take? How long will it take to recover? These are all questions you should be asking, but you'll also need to consider who to ask them to. During your patient journey with Practice Plus Group, you'll come into contact with different professionals at different times. To ensure you get the best answers, it's important to know which questions to ask about knee replacement, and where they should be directed.
Questions to ask before knee surgery: the decision stage
Not sure if a knee replacement is the best option for you? Take a look at the answers to the following essential questions to find the best treatment for your needs.
How do I know if knee replacement is right for me?
Even if you've been suffering from knee pain for a while, it can be difficult to know if you need a knee replacement. The following are signs you need a knee replacement:
severe pain (that stops you from carrying out everyday chores)
swelling around the knee
stiffness around the knee
reduced mobility.
How do I get a diagnosis?
To get a knee replacement diagnosis, you will need to book a knee replacement consultation. During your consultation, medical professionals will examine the affected knee with x-rays. This will help determine whether you require a surgery diagnosis or treatment. This is the time to listen to their medical advice and ask any questions you may have.
Which type of knee surgery is right for me?
Your consultant will be able to determine what type of knee surgery you need. Once they have decided, they will be able to explain what you need to do and provide information.
What are the pros and cons of total knee replacement surgery?
Total knee replacement surgery is for people whose knees are severely damaged by arthritis or sporting injuries. It's suitable for those that find it difficult to perform simple activities like walking or climbing stairs or those that suffer from pain and stiffness.
There aren't many disadvantages to the procedure. However, those acknowledged include:
artificial joints wearing out over time
difficulties with some movements
numbness.
What are the alternative treatments for knee pain?
Total knee replacements are a very successful procedure. However, before operating, other measures are usually tried first. These include:
rest or reduced activity
pain-relieving medication
anti-inflammatory medication (if no contra-indications)
physiotherapy
weight loss
A steroid injection can give temporary relief. Meanwhile, some patients may benefit from minor arthroscopic (keyhole) procedures.
When is the right time to have a knee replacement?
There isn't a definitive timeframe around the need for knee surgery. However, there are key indicators to look out for. These include:
pain in the knee joint when resting
severely reduced mobility
Osteoarthritis.
While you're planning, you may also wish to find out a bit more about the timings around knee replacement surgery.
What happens if I delay a knee replacement?
If you experience any of the symptoms listed below and you are not treated, you run the risk of the following problems:
weakened muscles and ligaments of the knee
deformity of the area outside the knee joint
limited mobility due to chronic knee pain and loss of function
continued degeneration of the knee joint
reduced success rate of any future knee surgery.
How do I choose a surgeon?
It's highly unlikely that you'll be able to choose your knee surgeon. However, there are a few things you can do. First of all, ask around. Your friends, family, and work colleagues may be able to recommend a specific healthcare provider. You might also want to do your own research. Choosing a reputable healthcare provider will go a long way to ensuring you receive a high level of care.
How healthy do I need to be before surgery?
You will need to be (and be able to maintain) a healthy weight before and after knee joint replacement surgery. Patients that are severely overweight may not be eligible for surgery. Weight gain post surgery will increase the strain on the artificial joint. This could cause pain levels to increase, or prolong recovery times.
Will my insurance cover my knee surgery?
If you are insured through your company or privately insured you can get referred to Practice Plus Group. Contact your insurance provider to pre-authorise your treatment today.
How can I pay for my knee replacement?
At Practice Plus Group we offer fast access to high-quality private knee surgery via self-pay, insured and NHS routes. Before you schedule a consultation, you may also wish to learn how much a knee replacement costs.
Questions to ask an orthopaedic surgeon
The following set of questions to ask a knee replacement surgeon focus on the operation itself and the potential outcomes.
What happens during knee surgery?
Knee joint replacements are called knee arthroplasty and are a resurfacing procedure. In osteoarthritis, trauma and inflammatory arthritis, the smooth, low-friction, cartilage that cushions the knee joint is lost. In knee replacement surgery, the damaged surfaces are removed and the thigh bone surface is covered with a smooth metal dome.
The shin bone surface is covered with a metal tray. A medical-grade plastic spacer is then fitted which functions as the smooth bearing surface on which the bone glides. The artificial joint can also be resurfaced with a plastic button.
What is a minimally invasive knee replacement?
Keyhole surgery – sometimes called 'arthroscopy' – is a minimally invasive procedure. The surgeon makes two very small holes either side of the kneecap.
One of the holes is used to pass the surgical instruments into the knee, while the other is for the arthroscope. This is a thin, flexible tube containing a light and a camera. This provides the surgeon with a clear image of the inside of the knee joint.
What is the expected outcome?
According to an NHS survey from 2020, 75% of patients said they felt a lot better following their knee replacement surgery. 15% reported feeling a little better, while just 5% said they felt worse.
What are the possible risks and complications?
With any major surgery, there is a small risk of complications. These are always discussed in detail with you beforehand. Programmes of care and hospital routines are regularly revised to minimise these occurrences. This means issues such as pulmonary embolism (blood clots) and deep infection are rare.
After a total knee replacement, the knee will always feel a little mechanical. Proprioception (natural stability) can be reduced in some situations but a good functional range of movement is the norm. For the vast majority of patients, a knee replacement is the most effective procedure for providing pain relief for an arthritic knee.
What can I do to increase the success rate?
If you have a date for your surgery, you should start to prepare right away. Removing hazards from your home (loose rugs and cables) to prevent falling, placing items within reach, and clearing space for walking with crutches, are all good ideas for preparation.
You might also consider strengthening and conditioning your body prior to surgery. Maintaining a healthy weight also reduces the amount of stress that will be put on the knee joint post-op.
The night before knee replacement surgery
The night before your operation is a crucial time. It's likely you'll be a bit nervous for the day to come, but you also need to be prepared. The questions to ask before knee replacement below aim to provide answers to your preoperative concerns.
What should I eat the day before knee replacement surgery?
In the weeks leading up to your operation, you should aim to maintain a healthy diet. Fruit, vegetables, grains, lean meats, fish, poultry, low-fat dairy products, and other sources of protein should be included.
The day before your surgery, you should eat around eight hours before your scheduled arrival time. These should be light meals such as oatmeal or toast. You'll need to resist the urge to have a full English as fried and heavy food is not recommended.
What should a person do before a knee replacement?
In a word: prepare. You can physically prepare by eating a healthy diet and avoiding activities that might result in damaged skin around the affected knee. You can also mentally prepare by making sure you know as much about the operation as possible. Ensuring your travel plans and support network are in place will also help aid your recovery.
What should you avoid before knee surgery?
Before a knee replacement, you should avoid doing any activity that might lead to you damaging the skin around your affected knee. Surgeons need healthy, undamaged skin to perform the operation. If you've recently cut, scraped or have a wound around the affected knee joint, you'll need to let your surgeon know. Your surgery may need to be rescheduled for a later date.
What happens after knee surgery?
As soon as you wake up from your operation, it will be time to start your recovery. Every patient will recover at different rates. However, there are still some things you can do to help speed up the process:
walk frequently (when permitted by your doctor)
follow your doctor or physiotherapist's exercises and advice
get plenty of sleep
eat a healthy, balanced diet.
What is the most commonly reported problem after knee replacement surgery?
One of the most common post surgical problems is a stiff knee joint. This can make regular activities such as using the stairs and getting into a car difficult. A stiff knee joint after surgery is usually managed through physiotherapy.
How much pain will I feel after surgery?
The operation itself isn't painful as you'll be under anaesthetic. Some pain and discomfort is likely in the hours and days after the operation. However this is usually managed with prescribed pain relief and exercise.
What can you not do after knee replacement?
The activities to avoid after a knee replacement are those that carry a high-risk of falling. Sports such as rugby, football and skiing should be avoided as these could cause damage to the new implant. Activities involving a lot of running and jumping should also be avoided, as well as sitting for prolonged periods of time.
Swimming, golf, walking and cycling after a knee replacement are all excellent options to explore to keep fit.
How soon after a knee replacement can you drive?
You won't be able to drive until you can fully bend your knee.
How do you sleep after a knee replacement?
The best position to sleep is on your back. This is because it's easier to keep your leg straight while asleep, which encourages blood flow to the surgery site. While sleeping on your back, it's also a good idea to prop your leg up. You can do this by stacking pillows.
What should I wear after knee surgery?
On the day of the surgery, you should wear loose-fitting clothes that are comfortable. Avoid wearing high-heel shoes. Upon arrival, you'll be given a surgical gown and special socks to wear.
You may also be given a knee brace to wear. This will help keep your knee straight while offering support.
How long is the recovery time?
Recovery depends on the type of knee surgery you've had and how old you are. If you've had surgery on a torn meniscus, for example, the recovery time is usually between 2-3 weeks. A partial knee replacement will usually take between 3-6 weeks to recover from. A total knee replacement will take around 6 weeks.
At Practice Plus Group, we follow the Enhanced Recovery Pathway (ERP). This is a modern, evidence-based approach that helps people speed up their recovery following major surgery. The ERP champions the many advantages of day surgery knee replacement. With this support you will be mobile enough to go home either on the day of surgery, or soon after.
Painkillers in the form of anti-inflammatories are administered upon discharge from hospital. This is to help with pain relief and to manage pain and swelling.
Will I need physiotherapy?
After your surgery, physiotherapy is crucial. This will help ensure the success of your surgery and get you back to the life you enjoyed before. Participating in physiotherapy will also help promote a longer life for the artificial joint.
Have more questions to ask before knee replacement? Our teams are happy to help – use the contact form to get in touch!