Innovative healthcare
We're proud to be leading the way with our unique approach to delivering healthcare in the justice system.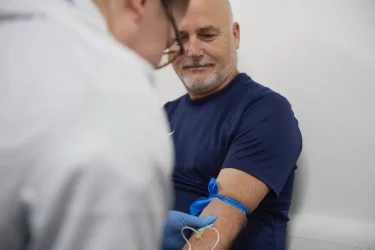 About us
We have dedicated healthcare teams working in prisons and immigration removal centres across the country who are passionate about helping socially excluded groups, with traditionally very poor outcomes, to develop lasting, positive health and wellbeing.
In a matter of a few years, we have grown our Health In Justice service line to over 45 prisons as well as immigration removal centres. Today we provide a range of primary care services, mental health and substance misuse services, and on any one day, we're responsible for the healthcare of over 41,000 patients.
In prisons, we work across the offender pathway, from reception into prison to release and transitioning back into community healthcare
Find out more about the types of healthcare services we deliver.
Innovative care
We're always working on new ideas and models of care which enhance the quality of care patients receive in prison. Here are just a few of our innovations:
Making the most of technology
Our offender health services make full use of the latest technology to ensure improved access to healthcare and to support patients to manage their health in preparation for release.
Our holistic model
In traditional prisons, there are three core pathways: primary care, substance misuse and mental health. A patient entering the prison will be referred into one, two or all three of these pathways, however, these strands of care will run alongside each other and be delivered by different teams, with little, if any crossover.
Instead, we have developed an innovative wellbeing model that moves away from this disease-led model of the past to one based on a holistic approach that draws upon the key elements of a person's health and wellbeing: physical health, mental health, substance misuse, relationships, resettlement and re-offending.
Our care planning takes place across all five of these elements and involves the patient in their own recovery. We look at individual barriers to change – elements like anxiety, poor coping skills and poor social skills – as these can affect many aspects of a person's life. We deliver an integrated approach to care that enables those in prison to make lasting changes to their health and wellbeing.
Patient involvement and peer support
People with 'lived experience' are vital for helping us shape our healthcare delivery, and they're vital in helping those who are just starting out on the journey of recovery. We've seen how peer support has been central to reducing reoffending and poor compliance with medicines and are the first organisation to introduce peer support in the form of local 'Health Champions.' We have employed patients at a number of our prisons to help their peers with their health and wellbeing, and support them with training and qualifications. We've been recognised by the Patient Safety Awards for this initiative as it's still very usual to find this approach in primary care and mental health.
National safer prescribing strategy
At Practice Plus Group we believe we have a duty to safeguard the prisoner's health and that of the rest of the prison population; we also provide treatment for drug dependency. We provide a range of practical and psychologically informed strategies to enable and support people to recover from substance misuse during their time in prison. These range from stress management and peer support, including the use of health trainers.
News and blogs