Governance and quality
Practice Plus Group is responsible for healthcare services supporting around 30,000 prisoners in 47 English establishments.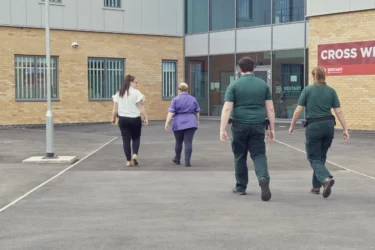 Introduction
Our patients live in inherently challenging environments, their health needs are complex, and their outcomes have traditionally been poor. Our teams are passionate about helping the prison population and we provide (in some cases through subcontracted specialist organisations):
Full primary healthcare and GP services
Specialist mental health services
Dentistry
Occupational therapy
Physiotherapy
Podiatry
Optometry
Substance misuse services.
Download the Practice Plus Group Quality Account Health in Justice 2020-2021
Our commitment to quality
Our commitment as a provider of healthcare has always been focussed on providing the best quality, best practice and delivering the best outcomes in everything we do.
We provide person-centred care which is focused on the particular needs of people in secure environments. Underpinning everything we do is a holistic approach which draws upon five key elements: physical health, mental health, substance misuse, relationship and resettlement and re-offending.
We co-ordinate care so that primary care, substance misuse and mental health teams work together. We involve patients in their own recovery, helping every individual to self-manage their wellbeing and any long-term conditions and to take responsibility for remaining healthy in prison and subsequently in the community.
Practice Plus Group has long been at the forefront of the drive to improve clinical and non-clinical service standards across healthcare, championing the need for more transparent, accessible reporting.
We were the first provider to have all hospitals and surgical centres rated 'Outstanding' or 'Good' by the Care Quality Commission, with a landmark 'Outstanding' across all categories for our Shepton Mallet hospital*.
We deliver one of the country's leading ophthalmology services, also rated 'Outstanding'
Our Bristol call centre received the first ever overall 'Outstanding' rating for an NHS 111 service
We have supported the elimination of Hepatitis-C across multiple prisons.
Transparency
Below you can find the first Quality Account exclusively for our Health in Justice services. This is a new initiative which represents an important step towards greater transparency and is our first annual report to our stakeholders in the health and justice systems, and to the public, on the quality of services we provide within our prisons and other secure establishments.
The report evaluates our performance against key measures and targets in the same way as we do for other primary care services. This publication demonstrates that commitment, breaking down performance by region and by type of establishment to give a clear overview of the present state of the healthcare we provide within the Justice system.
We hope that the commitment to transparency represented by this report makes a meaningful contribution to the wider health and justice systems.
Download the Practice Plus Group Quality Account Health in Justice 2020-2021
*Rated 'Outstanding' when the hospital was known as Shepton Mallet Health Partnership run by Care UK (Shepton Mallet) Limited. We're the same people providing the same services, just with a new name.
News and blogs