Practice Assist
Practice Assist offers remote telephone and video consultation services for GP practices.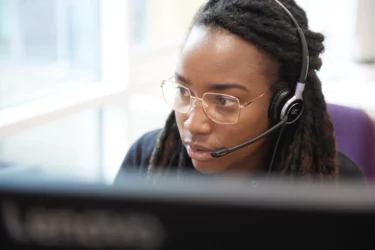 Practice Assist service
Practice Assist offers remote telephone and video consultation services for GP practices. The service gives you extra capacity whilst improving patient access. Your registered patients have a same-day consultation, either by telephone or video. Our GPs have full read-and-write access to your patient's notes, so they can provide full continuity of care.
Benefits of using Practice Assist:
Reduces patient queues
Takes pressure off frontline staff
Puts patients first
Gives you flexibility and control.
Reducing patient queues
We provide a telephone or video clinic when you need it. Appointments are set up in your system and booked online or through reception in the same way as your other appointments.
Taking pressure off frontline staff
With extra appointments available, Practice Assist gives you the resource you need. Having the flexibility to increase capacity means you can meet patient demand and reduce the pressure on your reception team.
Putting patients first
Practice Assist is not just triage. We provide a full consultation with electronic prescriptions and onward referrals if needed. Where required our GPs are able to turn a booked telephone consultation into a video call. If beneficial to the consultation, they can also receive photographs from the patient. With a high number of calls closed and no follow-up required, we'll provide your patients with the right care at the right time in a single consultation.
Flexibility and control
Using Practice Assist you can balance clinical resources in an agile and cost-effective way. We give you the flexibility to adapt your clinics and only use extra resources when you need them.
Contact us
For more information about our Practice Assist service, please contact us on 0333 434 3121 or email us at practice.assist@nhs.net.
Frequently asked questions
Practice Assist works in partnership with GPs, CCGs and NHS England across the country, helping to improve access for patients and reduce the increasing demands on GP practices.
Patients call their local GP surgery as normal. Any patients with a clear requirement for a face-to-face appointment – for example, vaccinations or examinations – are booked in directly.
However, the majority of patients calling for a GP appointment can be managed over the phone. These patients are given a timed slot for a call back with a qualified Practice Assist GP, who will try to resolve their problems remotely. If required, our clinician will then make any necessary onward referrals, either to the patient's practice, or to other services.
The process can be modified according to the needs of each individual practice; they are in control of which patients are booked for telephone consultations.
Practice Assist conducts telephone consultations on your behalf, externally from the practice. This means you get additional clinical capacity to meet patients' needs at no extra effort.
We can help with on-the-day demand, overflow issues and particularly busy periods; reception staff at client practices have found this flexibility a very useful additional resource to routine booked clinics.
Practice Plus Group has a long history of partnering the NHS with telephone-based consultation and, as a result, our systems and procedures have exceptional built-in resilience.
Practice Assist GPs have access to the practice clinical system, as any locum would, enabling them to reserve slots in the same way as your reception.
During the mobilisation phase, the number of reserved face-to-face appointments needed each day is calculated and agreed between our Hub and the practice.
Prescriptions
The majority of prescriptions and medication can be processed by Practice Assist without involving the practice.
We advise patients to follow normal practice processes for requesting repeat prescriptions. Any urgent medications or newly generated scripts can be issued via the Electronic Prescribing Service (EPS) direct to pharmacies.
Where practices do not have EPS installed, we can arrange prescriptions to be sent to pharmacies or to the practice for collection.
We adhere to all national guidance around safe and appropriate prescribing and we work with individual practices to understand local variations.
Home visits
If required, home visits are conducted by practice GPs.
Home visit requests are processed by practice staff, so if Practice Assist GPs feel a home visit is necessary, the practice team are notified.
We do not promise any home visits and leave this decision to the discretion of the practice GPs.
Language barriers
Patients with language barriers are usually booked in for a direct, face-to-face appointment or a telephone appointment with Language Line (interpreter services) for a practice GP to assess. They might also nominate someone to speak for them and specifically request a telephone appointment in order to benefit from the system.
Complex patients and/or those requiring continuity of care
Through regular audits we have identified certain patients and conditions that would most benefit from being booked for a direct, face-to-face appointment rather than a telephone appointment, such as children under the age of two years. This results in a more efficient service for the practice.
We will also enable continuity of care by adding and responding to specific alerts in patient notes, which can be added by practice staff, enabling patients to bypass our Hub telephone system if needed. Patients have the option of opting out of our service if they wish, but very few do as they value the improved ease of access.
Data security and information governance
We have a very secure information governance agreement in place that both Practice Plus Group and the practice sign. This agreement complies with both Caldicott Guidelines and the Data Protection Act and we take active steps to ensure no breaches of data security should ever occur.
Urgent calls
Urgent calls are taken seriously and any patient thought to be in danger will be booked in to speak with a practice GP immediately. We have a secure process for flagging any 'urgent' calls, in which we train the practice teams.
We also encourage frequent communication between our Hub and the practice and we have weekly calls to ensure clinical safety. On average, one call in every 200 to a practice is of a truly urgent nature.
Yes, Practice Assist GPs can be identified in patient notes – just as you would expect with any visiting GP.
Everything is done in real time with no additional administrative burden on the practice team.
Additional services, such as support with QOF and CQC, are available on request.
Our service is fully CQC registered and compliant.
All of our consultations are voice recorded and we have a strong clinical governance system in place.
Patients are given a specific time for a call back with a qualified Practice Assist GP, who will try to resolve their problems remotely. If required, our GP will then make any necessary onward referrals, either to the patient's practice, or to other services.
It typically takes four to six weeks to implement, which includes information sharing agreements, patient communications, IT access, confirming booking processes and exclusions, and training for our team and at the practice.