Patient story
Caring for our Plymouth hip replacement patients like family
Read about Spencer Tall's Plymouth hip replacement experience…
At Practice Plus Group we pride ourselves on caring for our patients as if they were our own family. At our Plymouth hospital, this has been taken to a new level, as the uncle and cousin of the service's senior finance manager, Sarah Fell, received a hip replacement.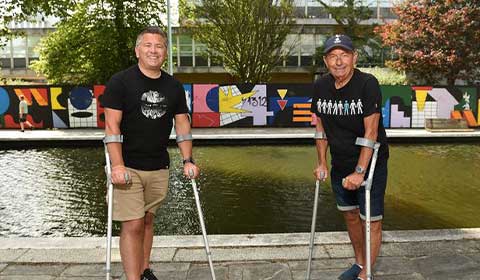 Spencer's hip problems
Spencer Tall, 44, and his father Dave, 70, share a love of football, hereditary joint problems and their appreciation of the care they received when they had hip replacement surgery at the Plymouth hospital.
Spencer explained: "I was only 27 when I started getting pain from hip problems. At first, it was put down to groin injuries from playing sport, but the pain didn't go away.

"Six years later, suffering from the effects of an impinged hip, I had surgery to remove the damaged bone and cartilage and to reshape the joint to stop further impingement."
At the time clinicians warned Spencer his hip would need joint replacement surgery, as osteoarthritis was already evident.
When his GP told him it was now time to have surgery he said his choice of hospital, for NHS treatment, was obvious. His father had already had both knees replaced and one hip replaced at Practice Plus Group Hospital, Plymouth and, four days before Spencer had his operation, Dave had his second hip replaced at the service in Brest Road.
Spencer's hip replacement patient experience in Plymouth
He said: "I was given a number of options but, given the excellent care dad received and what we had heard about the hospital from Sarah, Practice Plus Group was the obvious choice. I was very pleased with the high levels of care and cleanliness."
Spencer, who is recovering well from surgery, is looking forward to being out of the pain he has experienced for years and being able to take part in more fun and activities with his young daughters Poppy and Charlotte.
Treatment at Practice Plus Group Hospital Plymouth
Hospital director Mark White said: "I am delighted that both Dave and Spencer are recovering well. We treat all our patients with the same levels of care we would want our own families to receive if they were in hospital, that's one of the reasons the Care Quality Commission has graded our service as 'Outstanding'.

"If you add to that our 100% clean record against hospital-acquired infections, our short waiting times and our 99% approval rating from patients, you can see why people see us as a safe and sensible choice for surgery."
Plymouth Hospital, formerly Peninsula NHS Treatment Centre, offers a wide range of treatments and planned surgeries for NHS, private and insured patients. Any patient in need of our services is welcome, regardless of location, even if you have an existing health condition, as long as it's safe for us to treat you.