News
PNA café puts wellbeing on the menu at HMP YOI Brinsford
As part of a drive to promote the importance of colleague wellbeing throughout HMP YOI Brinsford, the site recently hosted its first Professional Nurse Advocate (PNA) Café – a new and innovative bi-monthly event with a 'menu' of activities focused around nurturing a supportive culture for staff members.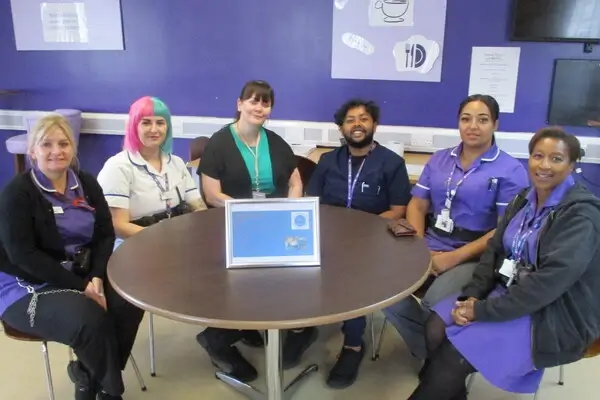 Hosted by clinical lead, Michelle Moorhouse, the event enables increased access to the skillsets of Practice Plus Group's network of PNAs – ensuring teams feel supported both professionally and personally.
The menu for the afternoon comprised the following areas, and will be used as a basis for future sessions:
Restorative Clinical Supervision
Planned & Ad-hoc Sessions
Wellbeing Support
Promoting the PNA Role
Career Conversations
Revalidation Support Sessions
Personal & Professional Development
Clinical Support
Learning Support
PNA Friday drop-in: cuppa and a chat
CAN meetings
The team reported having enjoyed the informative session, which was enhanced further with a buffet lunch and barista service – hosted in the prison's Serving Thyme restaurant, which was kindly offered for use by the Governing Governor.
Commenting on the success of the event and wider wellbeing initiatives at Brinsford, Tracie Wilson, head of healthcare, said:
"The PNA Café was a fantastic, innovative event; something a little different and unique to our region. It was very well received by all who attended on the day and really encompasses the values of our staff wellbeing programme here at Brinsford. We look forward to further sessions over the forthcoming months to support our team."
Wellbeing at HMP Brinsford
The Brinsford team is already planning a packed menu of activities for the next session in September. Attendees can expect to take part in a group exercise called the strength bubble, during which colleagues will be invited to write a strength associated with every member of the team. These will be written on slips of paper and put into an envelope. Each staff member will be given their own envelope which will be used to develop a Brinsford Strength Bubble for the team.
"[The event] was very well received by all who attended and really encompasses the values of our staff wellbeing programme."

Tracie Wilson, Head of Healthcare at HMP YOI Brinsford
The exercise is designed to encourage colleagues to engage together, identifying both personal and professional strengths to support collaboration and team work. It provides the opportunity for peers to celebrate one another and recognise that everyone's strengths form an important part of the team.
Further wellbeing initiatives available at HMP YOI Brinsford include: a cupboard filled with food and toiletries to ensure that no colleague goes without while on shift; a breakfast club, to promote time together and a healthy breakfast; and a dedicated staff wellbeing room offering a quiet and calming space to unwind.
Learn more about Health in Justice.