Staff story
Interview with an optometrist
As part of National Eye Health Week, we took the opportunity to sit down with Practice Plus Group optometrist Jayne Owen to talk eye health, optician loyalty, and the Commonwealth Games.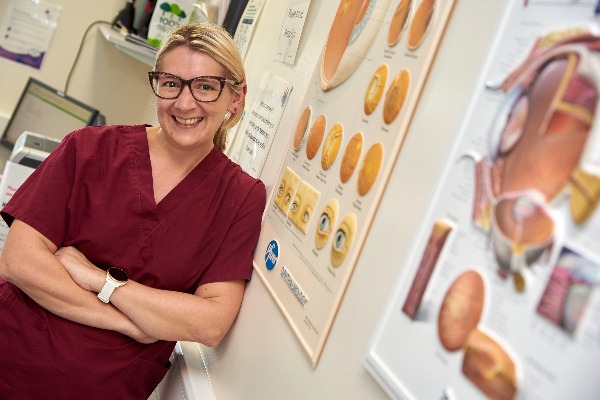 How long have you worked for Practice Plus Group?
I joined on 6th June 2022, so just coming up on three months now.
And how have you enjoyed your time with us so far?
I'm really enjoying it! I had five years' of hospital experience elsewhere and after a year working in-practice I just wanted more variety. I'm now loving having that variety of clinics to work with, like the macular service, doing YAG again, face-to-face cataract treatments, and also just helping to develop the service and promote the use of optometrists within Practice Plus Group. I think it's really great for the profession.
As you know, it's National Eye Health Week. With that in mind, do you have any guidance or tips you could give people for keeping their eyes healthy?
Absolutely: eating a healthy diet (lots of green leafy vegetables), not smoking, making sure you get regular exercise, wearing sunglasses in bright light, and keeping up with regular eye checks as well.
Ideally, you should be having an eye test at least every two years (or sooner) if your optician recommends it. You shouldn't chop and change between different opticians. A lot of patients will float around different opticians which means there's no consistency in their eye care or with their clinical records. So, once a patient finds an optometrist that are happy with, they should try to stick with them as best they can.
So, patients should find an optician and try to stay with them? That's a bit like 'hairdresser loyalty' then, isn't it?
Yes, it is. One thing that patients should bear in mind is that their eye health records don't follow them around. It isn't like with a GP where your records follow you if you switch GPs. Your optical records don't work like that. Your optical practice has records of your eye health, but if you move to a different optician, the new optician is starting from scratch. So it is really important that patients have some degree of loyalty unless there is a genuine reason for changing.
And if anyone reading this thinks they might be suffering from an eye condition, do you have any advice as to what they should do?
Go and visit their optician if they have one. A lot of people forget that opticians aren't just about selling glasses. They're also about promoting eye health too. Opticians spend 3 or 4 years learning about eye health and eye conditions. If they have a problem with their eyes, a lot of people go to their GPs who don't spend as long learning about different eye conditions. Opticians have so much more experience and value than just selling you a pair of glasses.
We heard you were in Birmingham recently at the Commonwealth Games providing eye care or access to eye care for some of the athletes. Can you tell us a bit about that?
Yes, I'm quite interested in sport – I really like weightlifting – so when I saw they needed volunteers for Birmingham this year I thought, I can go and point people in the right direction. Then when I went on to the volunteer registration, I actually saw that they needed optometrists.
So I thought, well I can definitely do that! When I was offered the role, I wasn't really sure why they would need opticians at the Commonwealth Games. I thought I'd be providing emergency eye care, like if one of the boxers got an eye injury, but I didn't actually see anyone who was injured. The people I saw were those from teeny-tiny islands in the Pacific who didn't have access to the eye care that we have over here. So, when they come to something like the Commonwealth Games, they can get their teeth done, their eyes looked at – they can just get a full MOT. It was so humbling to help these athletes on a one-to-one basis and to have them come to me for help and for my expertise. I was really star-struck; some of them had just won gold medals who brought them in to show us. That was incredible, to get my hands on a Commonwealth Games medal, just incredible!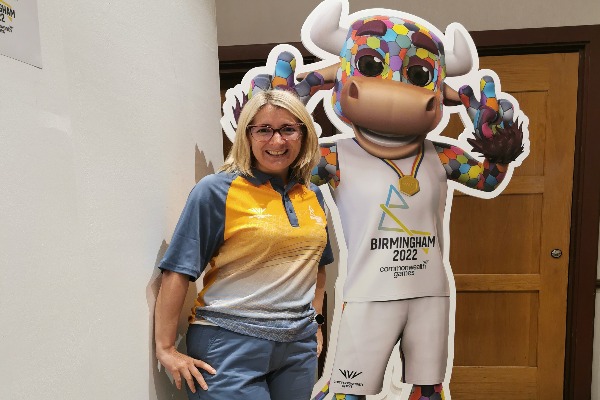 Which was the best athlete you treated?
The friendliest one was a lady from Papua New Guinea called Loa Dika Toua. She's a weightlifter who lifts in the 49 kilo category. She was so down to Earth and humble; we spent a good couple of hours just chatting. There was another guy called Billy who was an Australian boxer. He came to watch the semi-final of the Women's Euros in the clinic because we had a TV there. At half-time I asked him if he wanted an eye test and we spent a good few hours chatting about boxing and traveling.
Excellent stuff, it sounds like you had a great time! To end, do you have any short and sweet advice for people with their general eye care?
Don't be frightened of your eyes. If you've got an eye problem, it's likely to be treatable. Don't be afraid to visit your opticians; we're here to help. You only get one pair of eyes, so you've got to look after them.
---
If you suspect you're suffering from an eye problem, please don't hesitate to get in touch.