Case Study
Back on your bike – thanks to Barlborough Hospital
Read about Geoffrey's Barlborough hip replacement experience…
More than 40 years after a horrific crash, Geoffrey Oldknow is looking forward to a summer riding around the Peak District on his motorbike, thanks to hip replacement surgery at Practice Plus Group Hospital, Barlborough (formally Barlborough NHS Treatment Centre).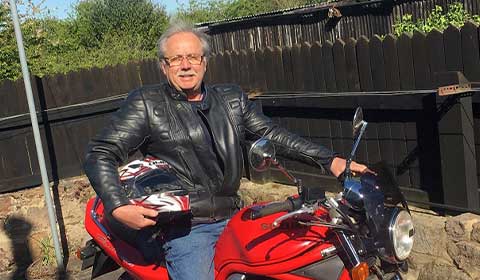 "I went in to the centre in so much pain and walked out, on crutches, two and a half days later pain free – it was remarkable."

Geoffrey Oldknow
This year Mr Oldknow retires after more than 50 years at the Hucknall Rolls Royce factory, where he works as a tool maker. It was as he returned from work on 30th December 1971 that a crash, involving his beloved Triumph Bonneville, saw his hip dislocated and damage to his pelvis. He also suffered a compound fracture of his tibia and fibula. "It was horrific," he recalled. "As I looked down my foot was pointing in the wrong direction."
Mr Oldknow spent seven weeks in the Derbyshire Royal Infirmary, followed by five months in plaster as the bones struggled to heal. Being young, he fought back to full health and, as he recovered, his bike was also rebuilt. His love of motorbikes continued over the years and to this day he loves nothing more than summer runs around the Peak District from his home near Alfreton.
But the arthritis had left him with one leg an inch and a quarter shorter than the other. This in turn led to lower back pain and restricted movement in his hip:
"I was okay if I was lying or sitting down but walking became increasingly difficult and painful. I didn't have the range of movement in my hip and that meant that not only could I not take a full stride but I could no longer comfortably get on my motorbike or ride safely.

"As the pain worsened I couldn't even get on my push bike. Getting in and out of a car became harder and harder and, as I live in a remote area, access to reliable transport is a necessity. I then became fully dependent on my walking stick. "

Geoffrey Oldknow
Mr Oldknow's GP referred him to Barlborough, where scans revealed the level of the historic damage and the further deterioration that had occurred in the hip joint.
"The images revealed the fracture in the leg and the arthritis that had developed as a result of the original hip trauma. The only option was a total hip replacement."
Mr Oldknow had the operation using an epidural rather than a general anaesthetic to help promote faster recovery and reduce the risk of deep vein thrombosis. He said:
"It was incredible. I was given a course of tablets on the ward and then I was on the operating table. I was so relaxed I fell asleep. I came to and said to my surgeon, Mr Thorwald Springer, 'Have I missed it?' and he smiled and said yes. I also smiled as the pain had gone."
Mr Oldknow said he was very impressed with the centre and its team.
"It exceeded all my expectations, from the moment I arrived and until the moment I left. From the tea lady to the surgery team, everyone was kind, professional and could not do enough to help.

"I went in to the centre in so much pain and walked out, on crutches, two and a half days later pain free – it was remarkable. I wouldn't hesitate to recommend the centre to anyone needing treatment. One of my two daughters is about to have her first child and it will be wonderful to take an active part in the baby's life and play."
Mr Oldknow is now having physiotherapy at Rolls Royce's factory. He said:
"When you start walking properly again, and you are level for the first time in a long time, it causes a slight backache when you walk a long way."
Mr Oldknow is going from strength to strength and preparing his motorbike for the better weather. Mr Springer said:
"I am delighted to hear he is doing well. We were able to manipulate the leg too and now he has matching-length legs. This should stop the discomfort in his lower back and, along with the new hip, make life a great deal more comfortable. And, with a full range of movement now possible, he will be able to lead a full and active life, making the most of his retirement."

Mr Springer