News
Apprenticeships are growing our future nurses in Shepton
Lucia Cata was a Customs Officer in her native Romania and it was only when she moved to the UK she started harbouring a dream of becoming a nurse. She began as a Healthcare Assistant before training to step up to be a Nurse Associate at Practice Plus Group Hospital, Shepton Mallet. A year from now she will complete her Nurse Apprenticeship and qualify as a Registered Nurse.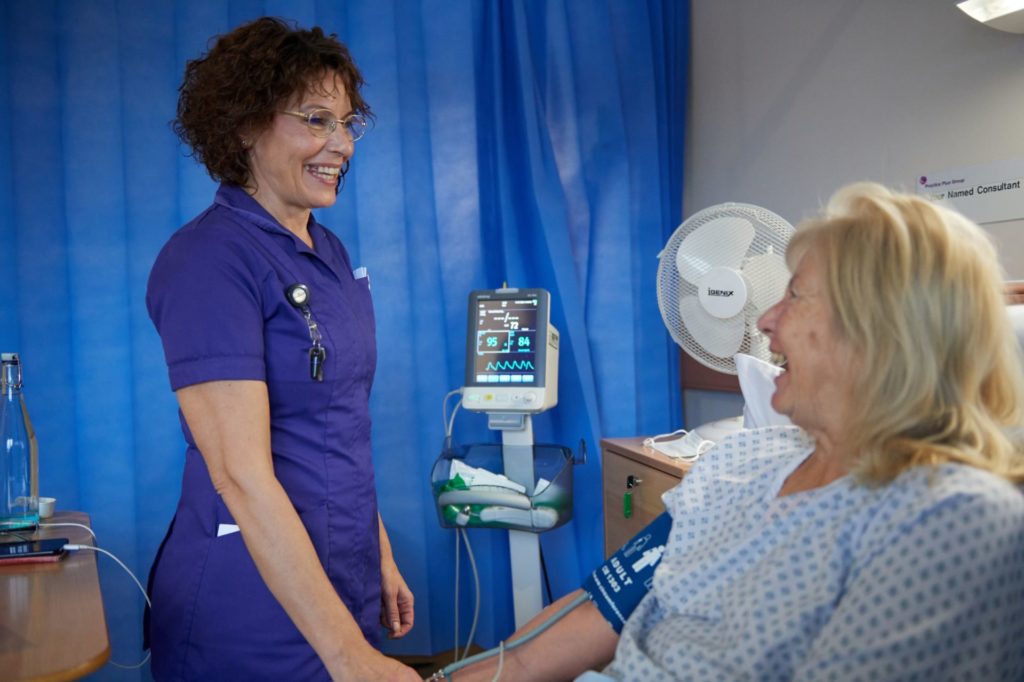 National Apprenticeship week at Practice Plus Group
This National Apprenticeship Week (Feb 6th to 12th), Practice Plus Group is joining in to celebrate the positive impact that apprenticeships have on individuals, businesses and the wider economy. Across Practice Plus Group, which as well as Shepton Mallet has nine other hospitals including Plymouth, Emersons Green in Bristol, Southampton and Portsmouth, over 40 apprentices completed their courses in 2022, with 27 actively training at the moment and a further 11 due to start this year.
Roles include nursing degrees for healthcare assistants who want to train to become registered nurses, as well as physiotherapy qualifications, diagnostic radiographer qualifications, theatre practitioners, healthcare support workers and some non-clinical support roles [see below].
"I'm so glad I chose to work for Practice Plus Group. They offer so much support to their apprentices and newly qualified nurses."

Lucia Cata
Lucia's nurse apprenticeship story
Lucia said: "Nursing is one of the most fulfilling jobs on a personal, professional, and spiritual level. The opportunity to interact on such a personal level with patients is one of the most satisfying elements of nursing. There are several factors that encouraged me to pursue a profession in nursing. One of them is that I love people. It is incredibly soul satisfying for me to interact with them, be in their presence, and care for them. I am so glad I chose to work for Practice Plus Group Shepton Mallet, as they offer so much support to their nurse apprentices and newly qualified nurses. I am extremely proud of who I am now. I am 53 years old and in one year I will be able to achieve my dream and be a very proud nurse."
Hospital Director at Shepton Mallet, Catherine Farr, said: "There is a nationwide shortage of a number of roles in healthcare, including fully qualified nurses, nursing support roles and radiographers. Here in Shepton Mallet we are doing everything we can to not only attract and retain a local workforce but to upskill our people, offer career development and future-proof the high quality treatment we are able to provide to our NHS and private patients. I'm very proud of our apprentices and their hard work."
Nursing apprenticeships involve on-the-job training combined with a minimum of one classroom-based day per week, assessments, coursework and a final qualification. Organisations fund the schemes through a government levy of 0.5% of their annual pay bill.
Find out more about job vacancies at Practice Plus Group, or find more apprenticeships information at Gov.uk.
---
Nurse apprenticeships in numbers
Across Practice Plus Group hospitals, there are:
Completed
3x Senior healthcare support worker, Level: 3
2xHealthcare support worker, Level: 2
4x Healthcare assistant practitioner, Level: 5
4x Nursing associate (NMC 2018), Level: 5
1x Senior Leader Master's Degree Apprenticeship, Level: 7 (Standard)
Active apprenticeships running
1x Adult care worker, Level: 2
2 x Diagnostic radiographer (integrated degree), Level: 6
8x Registered nurse degree (NMC 2018), Level: 6
6x Nursing associate (NMC 2018), Level: 5
1x Senior Leader Master's Degree Apprenticeship, Level: 7
2x Senior healthcare support worker, Level: 3
1x Business administrator, Level: 3
1x Lead adult care worker, Level: 3
4x Healthcare assistant practitioner, Level: 5
1x BSc Diagnostic Imaging Practice (Radiographer)
We have the following planned to start so far in 2023:
4x Registered Nurse Degree
1x Applied Physiotherapy Degree Apprenticeship
2x Operating Department Practitioner Apprenticeship
3x Nursing Associate Higher Apprenticeship
1x Senior Leader Master's Degree Apprenticeship, Level: 7
Related resources