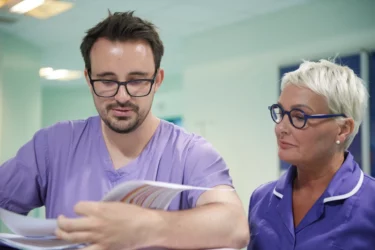 James Potter: Physician Associate (PA)
Today we hear from James, a Physician Associate (PA) at Practice Plus Group.
James Potter from Practice Plus Group Hospital, Plymouth (formerly Peninsula NHS Treatment Centre) has recently qualified as a physician associate (PA) – one of the newest health professions making him a pioneer in this role and the first PA employed in the nationwide Practice Plus Group, the first in the country to have their studies funded by an independent healthcare provider, the first to study without a first degree and one of just a handful to come from a military background.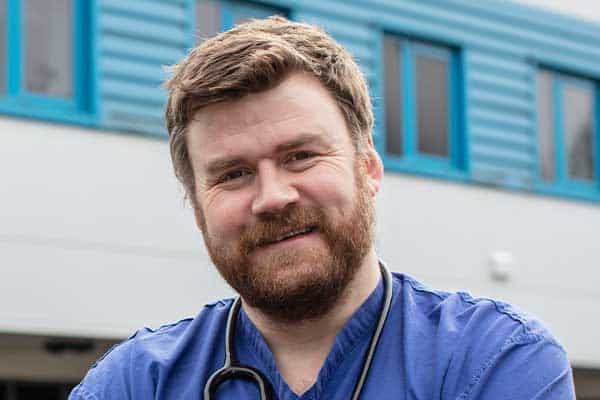 While the role of physician associate is new in the UK, it is well-established in other countries, such as the United States.
Physician associates are healthcare professionals who, while not doctors, work to the medical model of clinical diagnosis, with the attitudes, skills and knowledge base to deliver holistic care and treatment within the general care team under defined levels of supervision. The role is designed to supplement the medical workforce.
For James, the decision to follow a career in healthcare followed his final tour of duty in Afghanistan in bomb disposal with the RAF. He said: "In 2010 I returned from Afghanistan and felt that, after 10 years in bomb disposal and with a wife and young family, I should change direction so I decided to pursue a career in the RAF in healthcare."
James trained as an operating department practitioner (ODP) and worked in that area in the RAF in Peterborough. When the hospital closed he was seconded to the Navy and was sent to practise at Derriford Hospital in Plymouth. In 2017 he met with the theatre manager at Practice Plus Group Hospital, Plymouth and was offered a job. He has been with the hospital ever since.
While with the hospital James had the opportunity to study to become a PA on the University of Plymouth's MSc Physician Associates Studies programme. James was supported and funded in his studies by Practice Plus Group. Mark White, Hospital Director at Practice Plus Group Hospital, Plymouth commented: "We were delighted to fund James' course. We saw this as a long term project that encouraged the development of staff, but also allowed us to give greater flexibility in our hospital. It is part of our commitment to ensuring our patients have access to the best care available delivered by highly qualified and proficient healthcare professionals, which is why we have led the way in this instance."
For James it was the ideal opportunity to stretch himself and develop his career.
He said: "I loved being an ODP in theatres and would have happily stayed there my entire working life. I just wanted to see if I could progress. Live on the edge of the comfort bubble, so to speak, instead of languishing in the centre of it risk-free. I wouldn't have been happy without at least giving it a go."
Dr. Adele Hill, Associate Dean – Teaching and Learning Faculty of Health and PA Programme Lead at the University of Plymouth, added, added: "James was an ODP prior to studying with us, and though he doesn't fit the standard entry criteria for the programme, we saw that his skills and his approach to medicine would make him a great fit. I am very happy to say that James exceeded all expectations from day one. He excelled in the programme, and went out of his way to support other students and promote the role. We hope that he is the first of many ex-service personnel to study with us."
She continued: "The Physician Associate programme allows graduates and those with significant healthcare experience to work as part of the multi-disciplinary team to support patient care and provide clinical continuity. This non-traditional route into healthcare allows us to support diversification of the NHS workforce, and at Plymouth we actively seek to support students from all walks of life and backgrounds who show they have the skills, knowledge, and aptitude to work in this challenging and rewarding role."
James now plays a vital role at the hospital, mainly in the Outpatient Department where he operates between anaesthetists and nurses. He is the resuscitation lead for the hospital and is involved in scheduling. As a new role it is evolving every day.
Current vacancies
| Job title | Location | Contract type | Schedule type | Closing date |
| --- | --- | --- | --- | --- |
| Bank General Practitioner | Practice Plus Group Urgent Treatment Centre Southampton | Hospitals, Surgical Centres, MSK and Diagnostics | Casual/Bank | 31 Dec 2023 |
| Bank Nurse / Paramedic Practitioner | Practice Plus Group Urgent Treatment Centre St Marys Portsmouth | Hospitals, Surgical Centres, MSK and Diagnostics | Casual/Bank | 31 Dec 2023 |
| Bank Endoscopy Nurse | Practice Plus Group Hospital Southampton | Hospitals, Surgical Centres, MSK and Diagnostics | Casual/Bank | 31 Dec 2023 |
| Bank Catering Assistant | Practice Plus Group Hospital Shepton Mallet | Hospitals, Surgical Centres, MSK and Diagnostics | Casual/Bank | 17 Jul 2023 |
| Scrub Practitioner | Practice Plus Group Hospital Shepton Mallet | Hospitals, Surgical Centres, MSK and Diagnostics | Permanent | 16 Jul 2023 |
| Bank Radiographer | Practice Plus Group Hospital Shepton Mallet | Hospitals, Surgical Centres, MSK and Diagnostics | Casual/Bank | 16 Jul 2023 |
| Bank Scrub Practitioner | Practice Plus Group Hospital Shepton Mallet | Hospitals, Surgical Centres, MSK and Diagnostics | Casual/Bank | 16 Jul 2023 |
| Part Time Registered Nurse | Practice Plus Group Hospital Barlborough | Hospitals, Surgical Centres, MSK and Diagnostics | Permanent | 16 Jul 2023 |
| Endoscopy Lead | Practice Plus Group Hospital Shepton Mallet | Hospitals, Surgical Centres, MSK and Diagnostics | Permanent | 16 Jul 2023 |
| Bank Registered Nurse | Practice Plus Group Hospital Shepton Mallet | Hospitals, Surgical Centres, MSK and Diagnostics | Casual/Bank | 16 Jul 2023 |
| Bank Pharmacist | Practice Plus Group Hospital Barlborough | Hospitals, Surgical Centres, MSK and Diagnostics | Casual/Bank | 16 Jul 2023 |
| Consultant Anaesthetist | Practice Plus Group Hospital Shepton Mallet | Hospitals, Surgical Centres, MSK and Diagnostics | Permanent | 16 Jul 2023 |
| Day Ward Nurse | Practice Plus Group Hospital Barlborough | Hospitals, Surgical Centres, MSK and Diagnostics | Permanent | 16 Jul 2023 |
| Part Time – Anaesthetic Practitioner | Practice Plus Group Hospital Shepton Mallet | Hospitals, Surgical Centres, MSK and Diagnostics | Permanent | 16 Jul 2023 |
| Anaesthetic Practitioner | Practice Plus Group Hospital Shepton Mallet | Hospitals, Surgical Centres, MSK and Diagnostics | Permanent | 16 Jul 2023 |
| Consultant Ophthalmologist | Practice Plus Group Hospital Shepton Mallet | Hospitals, Surgical Centres, MSK and Diagnostics | Permanent | 16 Jul 2023 |
| Consultant General Surgeon | Practice Plus Group Hospital Shepton Mallet | Hospitals, Surgical Centres, MSK and Diagnostics | Permanent | 16 Jul 2023 |
| Part Time Consultant Anaesthestist | Practice Plus Group Hospital Shepton Mallet | Hospitals, Surgical Centres, MSK and Diagnostics | Permanent | 16 Jul 2023 |
| Consultant Anaesthetist | Practice Plus Group Hospital Barlborough | Hospitals, Surgical Centres, MSK and Diagnostics | Permanent | 16 Jul 2023 |
| Consultant Ophthalmologist | Practice Plus Group Ophthalmology North West | Hospitals, Surgical Centres, MSK and Diagnostics | Permanent | 16 Jul 2023 |