Patient story
Benefits of Shepton cataract surgery are clear to Valerie
Read about Dr Valerie Stewart's successful cataract surgery in Shepton Mallet…
For Dr Valerie Stewart, a semi-retired industrial psychologist from Wincanton, becoming aware that she had cataracts was a gradual process.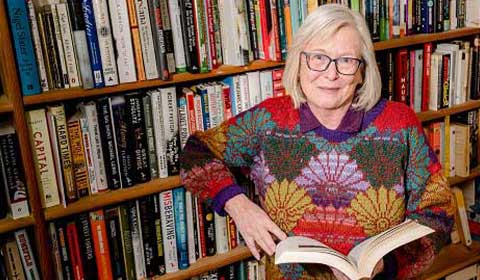 "For about six months I was constantly taking off my glasses and cleaning them, because I thought the blurred vision was caused by smears. I found I was unable to read subtitles on the television and I had to fight double vision at the computer screen,"
Valerie visited her optician who told her that she had cataracts. Her optician contacted her GP who confirmed the diagnosis and explained to her that she could choose where she had her treatment.
"Practice Plus Group Hospital, Shepton Mallet (formally Shepton Mallet NHS Treatment Centre) was on the list and the waiting time was only three weeks, so I asked my doctor to refer me there," said Valerie.
She had cataracts replaced in both eyes, with a month's break between each operation. Valerie was so happy with the level of care she received and the results of her treatment that she wrote an article about her experiences so that others in a similar predicament would feel reassured about receiving treatment from Practice Plus Group Hospital, Shepton Mallet. A full version of her article follows.
She also designed an information and progress sheet to help other patients undergoing cataract replacement surgery.
Valerie commented:
"I now have remarkably good vision without glasses and when I wake up I can actually see – despite having a heavy prescription before the procedures. It's made an incredible difference – the world appears much sharper and brighter."
She added:
"Treatment at Practice Plus Group Hospital, Shepton Mallet was pleasantly surprising – thorough information, efficient treatment, thoughtful good-humoured nurses and other professionals, a comfortable environment and a great result."
Chester Barnes, then Hospital Director at Practice Plus Group Hospital, Shepton Mallet, commented:
"We were delighted when we received Valerie's article – as an account of her experiences here it is a great asset for patients considering having cataract removal with us. We were very pleased to hear that she was so happy with the care she received."
It is estimated that around 2.5 million people aged 65 and over in England and Wales have some form of vision impairment caused by cataracts. While cataracts can interfere with everyday life if left untreated, cataract surgery is a successful procedure with good results for almost all patients – and treatment is available on the NHS, there is no need to pay.