Blog
Famous tennis players with hip replacements
Federer, Williams, Sampras, Nadal. All household names are widely regarded as titans of tennis. But whether they're gods on the grass or champions of clay, all have struggled with serious injuries during their careers. Hip, knee and shoulder injuries have kept them off the court and out of action.
With Wimbledon-mania reaching fever pitch, it's time to grab yourself a bowl of strawberries and join us as we take a look at famous tennis players with hip replacements.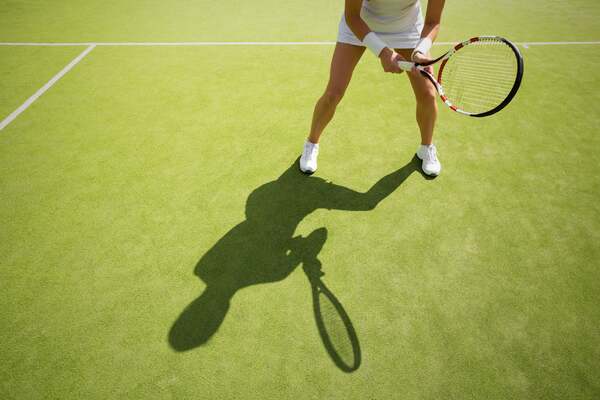 Which tennis players have had hip replacement surgery
As anyone who's picked up a racquet will know, playing tennis puts a lot of strain on different parts of the body. From forehand and backhand shots to serving and moving around the court, all tennis players run the risk of suffering injuries. Tennis at a high level is especially risky. Although not a common injury amongst players, hip injuries have affected and even ended the tennis careers of a number of fan favourites.
Among them are names such as Nenad Zimonjic and former doubles No. 1, Bob Bryan. Zimonjic required an urgent hip replacement to continue his career, while Bryan underwent hip resurfacing surgery in 2018. He successfully returned to tennis at the age of 40. Neither, however, are as well-known as former British and World Number 1 Andy Murray.
What type of hip replacement did Andy Murray get?
After years at the top of the game, winning two Wimbledon Championships, an Olympic gold medal, and three Grand Slam tournaments, the physical demands of the sport began to take their toll. At the beginning of 2018, after months of hip pain, Andy Murray underwent surgery.
While initially successful, he soon found himself dropping out of tournaments. By early 2019, he was back in surgery again. Having been advised by fellow tennis player, Bob Bryan, this time Murray underwent hip resurfacing surgery in a bid to get back in shape.
What is hip resurfacing surgery?
Hip resurfacing was developed as an alternative to total hip replacement. The procedure sees a cap placed on the 'ball' of the joint, and a matching metal shell in the socket. The advantages of this type of hip operation over total hip replacement are:
very little bone is removed
there's a decreased risk of dislocation
hip revisions (operations to correct failed or worn-down implants) are easier to make.
The operation itself takes between one and three hours.
Which professional athletes have had a hip replacement?
Hip problems aren't exclusive to tennis players. People across the world of sport and beyond have chosen to have hip surgery to prolong their careers and improve their quality of life. These include wrestler Hulk Hogan, gold medal-winning Olympic gymnast Mary-Lou Retton, and Team GB triathlete Michael Rix.
Some big names from outside the world of sport include Van Halen frontman Eddie Van Halen, American actor Steve Carrell, and the Terminator himself, Arnold Schwarzenegger.
Hip replacements and tennis: what you need to know
If you're experiencing the signs of needing a hip replacement, an operation might not be game, set, match for your tennis dreams. Here's what you need to know about tennis and hip surgery.
Can you play tennis with a hip replacement?
The answer to this question will depend on a number of factors. Your age, general health and activity levels will all play a part. Most importantly though, returning to the court will depend on the advice of your orthopaedic surgeon.
Many patients make a full recovery from their hip operation and are able to return to tennis. Others are limited to doubles play, while sadly, some will be advised not to pick up a racquet again. As implant technology improves, the good news is this number is expected to decrease in the coming years.
The most important advice is to follow the recovery plan set by your surgeon or physical therapist.
Hip replacement recovery and tennis – the benefits
Getting back to a physically healthy lifestyle is very important, but the mental benefits of returning to the court should not be overlooked. Getting back into the game after a hip replacement can have beneficial effects on your mental wellbeing and quality of life.
Tips for getting back into tennis after hip surgery
There are several tips for getting back into tennis or other sports and exercise after a hip replacement. Among them is taking lessons from a club professional. That way, they can help you get the timing back on your shots, as well as help manage your movement around the court. They may also recommend playing doubles to reduce the amount of stress on the new joint.
Remembering to stretch before and after a match is important too, but the main tip is to follow the advice of your physical therapist. They will be able to guide and give you the best chance of returning to the court.