Blog
7 secret vegetables you should include in your Easter roast
If you want to spice up your Easter roast this weekend, we have a few unique veggie ideas that are not only super tasty but full of goodness!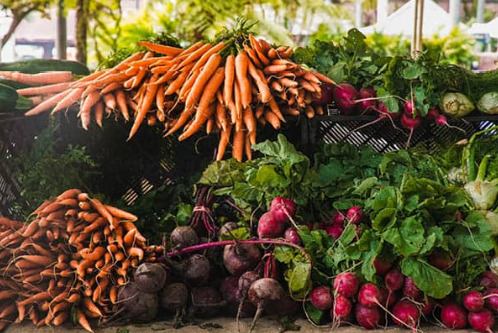 Whether you're making a meal for yourself or your family, this Easter can still be celebrated with some delicious food. Here are our top 7 vegetables you'll want to include:
Roasted beetroot
Bring some vibrancy to the table with some juicy beets. As well as being delicious, beetroot is thought to have a variety of health benefits, including, lowering blood pressure, improving digestive health, and may be anti-inflammatory.
For even more flavour sensations, why not drizzle a little honey and thyme over before roasting?
Griddled courgettes
If you're planning a Mediterranean-style roast, courgettes are a must-have side dish. Courgettes are a great source of vitamin C (which is necessary for growth, development, and repair of all body tissues) and folic acids (which help make healthy red blood cells, which carry oxygen around the body).
To griddle your courgettes, simply cut into slices, lightly sprinkle with salt and leave for 20 minutes – this helps to draw out excess water. Then add your courgettes to a hot griddle for ten minutes. This dish is fantastic with griddled meat or fish!
Smashed radishes
Rich in antioxidants and minerals like potassium is just one of the reasons you'll want to add these bundles of joy to your Easter menu. They may be little, but they're packed with flavour!
To cook, simply cut your radishes in half, and carefully press down on them using the edge of a knife. Add them to a pan of sizzling butter for ten minutes and shake in a few chilli flakes for extra pizzazz.
Wilted spinach
This leafy green is loaded with nutrients – including vitamin C, folic acid, iron, and calcium – and it's low in calories. To wilt spinach, all you need to do is throw it into a wok or saucepan with a splash of olive oil and wait for it to shrink. If you want to make it extra special, add a clove of garlic and a pinch of nutmeg.
Sauteed peppers
They're sweet, juicy, and an excellent source of vitamin A. Vitamin A supports your body's immune system helps your vision in dim lighting and can keep your skin healthy.
To sauté peppers, heat a skillet over medium heat with olive oil, add your peppers, and cook for 15 minutes. To take it to the next level, add onions, garlic, and a pinch of oregano.
Poached asparagus
Asparagus acts as a prebiotic, which means it can help boost good bacteria in the digestive system – but most of all they're super delicious. If you're cooking chicken or ham, asparagus should be next to it.
All you need to do is cut off the ends, boil a pan of salty water and drop them in for 3 minutes. Then voila, they're ready! Season well and for some heat add a pinch of chilli flakes.
Steamed kale
Did you know eating in-season veg is tastier and healthier for you? This is because the fruit and veg have been harvested at the best time for flavour and nutrition. And a vegetable that loves the spring season is kale. It's a great early spring vegetable that can be eaten raw or cooked – with an Easter roast, we recommend cooked!
Kale is a great source of plant-based calcium and contains low levels of natural compound oxalate, which makes the calcium available for absorption. All you need to do is steam your kale for 5 to 10 minutes, season well and finish with a squeeze of lemon.
We hope these veggie ideas will inspire you to create something delicious and nutritious this Easter holiday.