Patient story
New hip puts Shepton policeman Daniel back on the move
Read about Daniel Bishop's successful hip replacement surgery in Shepton Mallet…
When marathon running and cycling policeman Daniel Bishop, 41, from Taunton, experienced pain while out running, he thought it was simply groin strain.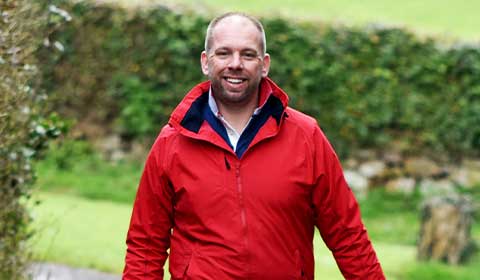 However, the pain became progressively worse to the point where he was unable to walk let alone run any distance, carry out his operational duties as a police officer or even sleep at night. He went to his GP who referred him for an X-ray at Musgrove Park Hospital.
"I first saw my doctor at the beginning of August and I had the x-ray the following day. The very next day after that I began physiotherapy.

It was the physiotherapist referred me to an Orthopaedic Assessment Centre in Taunton who in turn referred me on to see an Orthopaedic Consultant at Practice Plus Group Hospital, Shepton Mallet (formally Shepton Mallet NHS Treatment Centre) where it was decided that I would need hip replacement surgery – unusual for someone of my age but there was no other option."
He added:
"A number of factors seem to have contributed to the wear and tear on my hip, my work for example and possibly a car accident I was in a couple of years ago. I believe my passion for running though has been the biggest contributor.

I'm six-foot-five inches tall and I'm built for rugby more than I'm built for running long distances. Over the last few years, I have thoroughly enjoyed competing in local 10k races, and numerous half marathons and I'm very proud to say I achieved my ultimate running goal in 2015 when I completed the London Marathon."
Daniel's hip replacement patient experience in Shepton Mallet
Daniel had his surgery at Practice Plus Group Hospital, Shepton Mallet on 19th December.
"It was the first time in my life that I had stayed in hospital and my first operation. I was understandably anxious, but from the moment I got to Practice Plus Group Hospital, Shepton Mallet I felt so relaxed, the staff were fantastic."
At his first outpatient appointment Daniel discussed his treatment with his consultant.
"I was able to speak about my life and my work and take into account my occupation when deciding what was best for me."
As a consequence, Daniel received a ceramic hip and plastic socket, which is a combination better suited to deal with impact and which will allow Daniel to return to work once his convalescence is over.
Daniel is delighted with the results of his operation and the care he received from Practice Plus Group Hospital, Shepton Mallet said:
"I have gone from experiencing acute and chronic pain which leads to feeling permanently exhausted, to no pain and feeling confident about getting active again. As someone who ran and cycled it has been immensely frustrating not to be have been able to do those things. I know that my marathon running days are over but I am really looking forward to getting back on my bike and to taking our two dogs for long walks again."
He added:
"I've been telling everyone about how great the treatment was from Practice Plus Group Hospital, Shepton Mallet. The staff are fantastic, as is the catering. You're given plenty of time by everyone which made it feel more like I was staying at a friend's house than being in hospital. I felt completely at ease during my stay and never felt worried or has reason to feel embarrassed in any way.

I loved the fact that what I do for a living was taken into account when my treatment was planned. It was good too to be able to get the operation relatively quickly, for it means I can be back at work sooner rather than later.

I feel very fortunate to have had my hip surgery at Practice Plus Group Hospital, Shepton Mallet."
Daniel is currently recovering from his operation and has just spent two weeks at the Police Rehabilitation Centre. He is looking forward to getting active again but is planning to take things at a sensible pace so as not to undo all the good work that has been done.