Blog
Carpal tunnel surgery costs explained
Carpal tunnel syndrome (CTS) surgery can help to relieve you of symptoms such as numbness, tingling or pain in your hand and wrist. If you need to have the procedure, it's important to understand the costs involved. In this blog post, we explore carpal tunnel surgery costs to give you a better idea of what you need to budget for.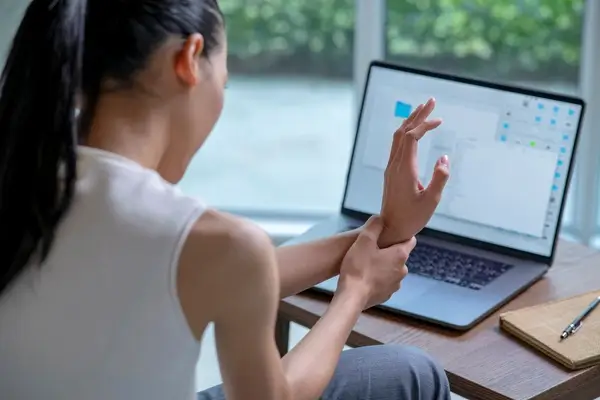 About carpal tunnel release surgery
Carpal tunnel surgery (also known as carpal tunnel release or carpal tunnel decompression) is a common procedure that's used to relieve the symptoms of carpal tunnel syndrome. The surgery involves cutting the transverse carpal ligament, which reduces pressure on the median nerve and alleviates symptoms.
There are two types of carpal tunnel procedures: open surgery and endoscopic release surgery. During open release surgery, your surgeon will make an incision in the wrist to access the carpal tunnel. Endoscopic release surgery is similar to keyhole surgery, in which a thin tube with a camera is inserted through a smaller incision. Please note, this method isn't widely used nowadays.
Carpal tunnel operations are usually performed under local anaesthetic, meaning you don't need to stay in hospital overnight. During the recovery process from carpal tunnel surgery, you should try to avoid using your hand for strong gripping and heavy lifting for the first few weeks.
With a success rate of over 90%, carpal tunnel surgery is not considered a risky procedure. However, among the potential risks are bleeding, infection and damage to the median nerve.
How much does carpal tunnel surgery cost?
The cost of carpal tunnel surgery can vary depending on your location, the healthcare provider you choose, the type of surgery you need, and any additional services or facilities that may be needed.
The following factors explore the details around carpal tunnel surgery costs:
Consultation Fees

: Before undergoing carpal tunnel surgery, you will likely need to schedule a consultation with a specialist or surgeon. The consultation fee can vary, but it typically ranges from £100 to £250. The price depends on the healthcare provider and the location of the hospital. Consultations at Practice Plus Group cost £95
Diagnostic Tests: To confirm the diagnosis of carpal tunnel syndrome and assess the severity of your condition, your healthcare provider may request diagnostic tests. These may include nerve conduction studies or electromyography and can help determine the appropriate course of treatment. The cost of these tests can range from £200 to £500, depending on the provider and the specific tests performed
Surgery Fees: The cost of carpal tunnel surgery itself can vary depending on the type of surgery chosen, the complexity of the case and the duration of the procedure. Open release surgery

typically costs between £1,500 and £3,000

, while endoscopic release surgery can range from £2,000 to £4,500. These costs usually include the surgeon's fees, anaesthesia and the use of the surgical facility
Follow-up Care: After the surgery, you will likely require follow-up care to monitor your progress and ensure proper healing. The cost of follow-up consultations can vary but they're typically less expensive than the initial consultation fee. Please note at Practice Plus Group, any follow-up treatment and medication is covered by the cost of your surgery.
Private carpal tunnel surgery costs UK
Carpal tunnel surgery in the UK can cost in excess of £2,500. Variations in price depend on your location and healthcare provider.
At Practice Plus Group, carpal tunnel release surgery is £1,945. Surgery is available at locations across the UK and pricing is fixed. We're proud to offer honest pricing, with treatments up to 30% less than other private hospitals.
What's included in the cost?
At Practice Plus Group, the quote we give for your surgery is all-inclusive. The initial consultation costs £95 and the surgery is £1,945. The consultation includes a pre-operative nurse assessment, any necessary bloods, and swabs and an X-ray (if required).
Financing your carpal tunnel surgery – ways to pay
You can choose to pay for yourself or with health insurance. This can be done upfront or via our financing partner. You will need to check with your insurance provider to confirm whether your carpal tunnel procedure is covered under your policy.
Why choose Practice Plus Group?
We offer transparent pricing and strive to provide high-quality care at competitive rates.
With us, you get:
a choice of first-class consultant surgeons
a choice of excellent private hospitals around the country
99% positive patient reviews.
But don't just take our word for it. Read our patient reviews to learn about the real Practice Plus Group experience.
"From the moment I arrived, I was made to feel welcome and looked after extremely well. The Practice Plus Group staff are just amazing and caring."

M K, carpal tunnel surgery patient
How to book
Investing in the right treatment for carpal tunnel syndrome can help relieve your symptoms and improve your quality of life for the long term.
To get started, book an initial consultation with our team using the link below.
FAQs about carpal tunnel operation costs
Not quite found what you're looking for? Our dedicated FAQs can help!
On average, the cost of open release carpal tunnel surgery in the UK ranges from £1,500 to £3,000. Endoscopic release surgery, which is a minimally invasive technique, tends to have a slightly higher average cost ranging from £2,000 to £4,500.
It's important to note that these figures are approximate and can vary depending on the specific circumstances of each case and the healthcare provider. Endoscopic release surgery isn't widely offered nowadays.
When it comes to your health and the services on offer, it's important to prioritise quality and safety over seeking the cheapest option. Healthcare providers in the UK adhere to strict regulations and standards to ensure patient safety and high-quality care. Choosing a reputable and experienced healthcare provider should be your primary consideration.
At Practice Plus Group, our prices are up to 30% less than other hospitals. We also boast a 100% clean record for hospital-acquired infections.
The answer to this question depends entirely on your circumstances. Deciding on surgery is a personal decision that should be made in consultation with a healthcare professional. It's important to remember that surgery can provide pain relief and enhance mobility in your wrist and hand. This can improve the overall quality of life for those with severe symptoms.
Costs vary depending on the provider. At Practice Plus Group, our surgery prices are up to 30% less than other providers. When considering treatment, it's important to weigh up the price with the risks and benefits of the procedure.
The cost of a nerve test for carpal tunnel syndrome (such as nerve conduction studies (NCS) or electromyography (EMG)) in the UK can vary depending on several factors.
On average, the cost of a nerve test typically ranges from £200 to £500. However, it's important to note that these figures are approximate and can vary.
Related resources