Case Study
New hip in Gillingham gets Sittingbourne man back to work
Read about Paul Cripps' successful hip replacement surgery in Gillingham…
Just seven weeks after Sittingbourne builder Paul Cripps received hip replacement surgery as an NHS patient at an Ilford hospital, he is back climbing high-rise scaffolding – and all following a trip to Practice Plus Group Surgical Centre, Gillingham.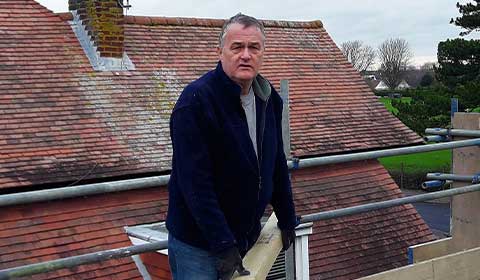 Paul, 59, had been struggling to work or sleep as the result of painful degeneration in his hip that had left bone grinding on bone. He explained:
"Most of us, of a certain age, in the building trade suffer from this type of painful wear and tear, especially when the weather gets cold.

"The not sleeping was the worst part. I'd lie awake at night, getting comfortable for 10 minutes, but then the pain would creep in again. The tossing and turning was not only bad for me, but it also kept my wife awake."
Paul's GP sent him for X-rays which revealed the level of damage to his hip joint, leaving a full hip replacement as the only option. Paul opted to be treated as an NHS patient at Gillingham Surgical Centre, as he had previously had an operation on his hand carried out at the centre in Beechings Way.
Following a meeting and assessment with surgeon Mr Rahij Anwar, Paul was offered treatment at the centre's sister hospital in Ilford, which has very low waiting times. Paul said:
"I was delighted to have the opportunity to be out of pain, and the hospital was only an hour away."
Then the pandemic struck. Most joint replacement operations stopped and the team at the hospital in Ilford were moved on to helping those who had been injured in serious accidents.
But in November 2020 Paul got the call and he went to Ilford for his surgery.
"It was great," he said. "The staff were happy, friendly and very professional and the food was good. It felt calm – less like having major surgery and more like a trip to the dentist.
"I religiously followed the exercises the physiotherapist gave me and I attended my follow-up session at the Gillingham Surgical Centre. Seven weeks later, I am back at work – and back sleeping. My wife and I couldn't be happier!"
Mark Gilmour, who is hospital director at Gillingham and Ilford, said:
"I am delighted that Paul is back at work and getting a good night's sleep. The pain caused by osteoarthritis is debilitating. The good news is that these days it is easy to put right, with some joint replacements being carried out as day surgery. People can be back at work, or doing the hobbies they love, pain-free with the minimum of fuss or wait."