Patient story
Overcoming a fear of hernia surgery at Gillingham
Read how staff helped Thomas MacDonald overcome his medical anxiety to have successful hernia surgery at our Gillingham hospital.
A Strood man is looking forward to his holiday on the beach after the team at Gillingham Surgical Centre (formerly Will Adams NHS Treatment Centre, Gillingham) helped him beat this extreme phobia, allowing him to undergo hernia surgery.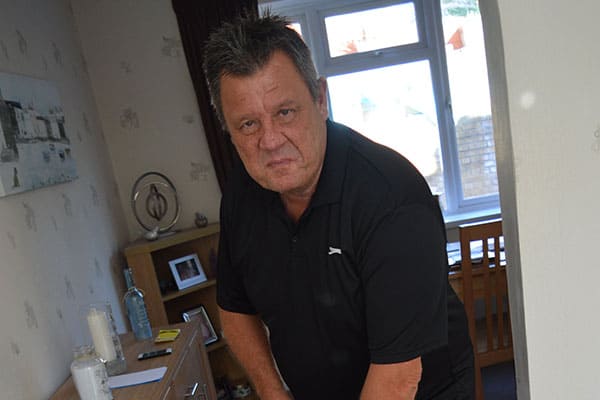 Thomas' hospital phobia challenge
Retired delivery driver Mr Thomas MacDonald developed white coat syndrome some years ago when he had been told he could die under anaesthesia. White coat syndrome causes a person with normal blood pressure to experience a rapid rise in their readings when their blood pressure is taken by a medical professional. The rise in blood pressure comes from the anxiety of being in a clinical setting. When the test is carried out at home, the results normalise.
A hernia diagnosis
Eight years ago, Mr Macdonald was diagnosed with an umbilical hernia, which appears as a painless, but visible lump in or near the navel. They are less common in adults and can become worse over time, requiring hernia repair surgery.
He decided not to go through with surgery, as he was working and would have had to take at least six weeks off to recuperate.
A few years later, after his GP suggested he have surgery, Mr MacDonald visited another hospital. But his medical anxiety saw him elect not to go ahead. He explained:
"I am a relaxed person in every other aspect of my life but, having once been told by a consultant that I could die under general anaesthetic because of my weight and blood pressure, I just hate being around hospitals."
Earlier this year, the now-retired Mr MacDonald and his wife Margaret decided it was time for him to have the operation. He said:
"The lump is quite noticeable, and I always have to stay covered up. As we are going to Greece for our holiday it would be nice to relax by the pool or the beach without having to cover over the hernia and belly button."
His GP set him up with a 24-hour monitor that showed his blood pressure was normal and, once the decision was made, Mr MacDonald wanted to act quickly. He said:
"I looked at private hospitals but a friend of mine had the same treatment at Practice Plus Group Surgical Centre, Gillingham and he told me how good they were."
Mr MacDonald spoke to Alice Mackay, PA to the hospital director, and explained his circumstances. He said:
"She was exceptional. She understood about white coat syndrome and hospital phobias and she put me at my ease. She told me that I could have the treatment as an NHS patient, but I explained that I needed to do it asap, if I were to do it at all.

"She said that I could have the hernia surgery quickly as a private patient, but that I would receive the same treatment as an NHS patient."
Thomas' hernia surgery experience at Gillingham
With the help of Su Green, the self-pay coordinator, in slightly over a week Mr MacDonald had been assessed by the consultant and anaesthetist and had gone through the pre-assessment tests. He said:
"It was so quick! Everyone had been briefed about my concerns and each person was really reassuring: they told me exactly what they were doing and what would happen on the day.

By the time the day came, I was completely relaxed. My wife thought I was going to bolt, but I had so much confidence in the team I was happy to go through with it. The consultant anaesthetist, Dominika Palcovicova, came to see me and reminded me it was just repair, not major surgery, and that I would be back on the ward before I knew it, and she was right."
Mr MacDonald arrived at the centre at 7:45am and left at 11:15am. He said:
"It was perfect. I could not have asked for more, from the moment I walked in until I left. I was the first in theatre; everyone was friendly, professional and reassuring. Dominika, her assistant, Alice and Su came to see me after the hernia surgery, which was nice, and I got a phone call from the centre the next morning to check I was ok and that I had had a good night's sleep.

"I do not think the treatment I received would have been different as an NHS patient. The difference was the speed between my first inquiry and the surgery, and that it is what I needed. I was amazed at the cost, which was just £2,000, and worth every penny after eight years with the hernia."

Mr MacDonald
Hospital director John O'Brien said:
"White coat syndrome and hospital phobias are very common and sadly can prevent people seeking treatment. I am delighted the team were able to help Mr MacDonald conquer his concerns. They are not only consummate professionals, they are also compassionate carers.

"We recently introduced the self-pay option for those situations where time may be an issue for people, especially those who are self-employed or who may have caring responsibilities that may mean they need results quickly. Because of this, we aim to ensure our prices are around one-third less than private hospitals."

Hospital Director John O'Brien