Case study
Interview with a radiologist
To mark Allied Health Professionals (AHP) Day this week, we spoke to radiologist Georgie Haylor, who is Deputy Radiology Manager at Emersons Green Hospital and Practice Plus Group Hospital Devizes.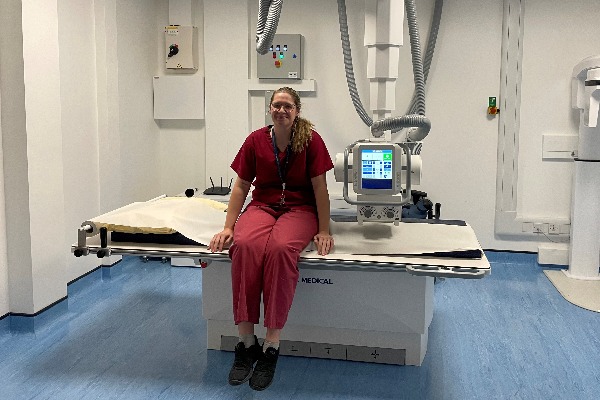 Tell us about your role at Practice Plus Group
I joined Practice Plus Group on a temporary radiographer contract at first, soon after I had moved to Devizes in Wiltshire.
Thankfully a permanent position became available just two months in. I could see some changes I wanted to make, so I jumped at the chance to become a member of staff and I've never looked back!
I am very lucky to love my job so much. Practice Plus Group have been so supportive and have given me opportunities for promotion and autonomy to make changes and run the department how I think best. Having come from the NHS, I love that I can really spend time with my patients and get to know their treatment plans, and what's happening in their lives.
How do you manage to have time with your patients even when you're busy?
We've got a really great team and we plan our patient lists really well and, as my team works across two sites, we can flex our resource as we need to. Rather than over-booking our lists and squeezing patients in, we prioritise patient experience. The level of activity we can achieve is just as high as it was, but our patient experience has improved. Even when we're busy, I think it's important to not pass this on to patients and to make sure they feel special. I pride myself on positive feedback and love it when patients thank reception on their way out!
What does your radiologist role involve?
Most of our patients are NHS patients referred to us for X-rays from their GP, but we also have private patients. Most commonly we see knees and hips, but we also X-ray hands, chests, feet, you name it!
I split my time between working with patients and my manager duties. I was recently involved in a complete re-fit of our X-ray room which is all lovely and new now.
It's challenging to recruit at the moment, as it is for most radiology departments. We're looking at different routes into the radiographer role, for example supporting one of our admin staff who wants to re-train, and we also have someone on a radiologist apprenticeship who will hopefully stay with us once qualified.
It's the most rewarding career and we all love what we do.
---
Find out more about healthcare and joining Practice Plus Group.