Staff story
How to prepare for your video interview
With many job interviews now conducted via video chat, our recruiters have provided a few tips to help you prepare and succeed in your video interview.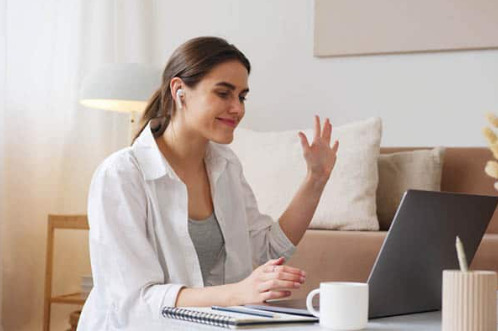 Always use headphones
Using headphones will help the recruiter hear you better and minimise background noise.
Prepare your desk and set-up
Aside from preparing your answers, make sure you have everything you will need on your desk during the interview, such as a glass of water, a notebook and pen, and any physical examples of work you may need to show.
And don't forget to double-check the video software you are using is compatible with your device. If you have technical problems during your call, stay calm – it happens to us all and won't reflect badly on you.
Be mindful of your background
Think about where you are going to take your call and get the area ready so it is neat and tidy behind you.
This is also a good time to check what the lighting is like and whether you've chosen a quiet space. Wear appropriate attire
Even though you might not be leaving the house, looking the part will give a good first impression to the interviewer.
Talk to your household
If you live with other people, make sure they are aware of your interview so they can keep the noise down and not interrupt you. Don't worry if your pets or children make an appearance, the interviewer should understand and will likely have their own distractions to deal with.
Quiz yourself
At the end of the day it is still an interview, so make sure you do your research, test yourself on any topics that may come up, and prepare questions you want to ask.
This is your shot at showing them why you are the best candidate and what getting the role would mean to you.
We hope these tips will help you on your way to finding your dream career.
---
Bring your talent and passion to healthcare.