Patient story
Teacher back in the swing after Barlborough spinal surgery
Read about Barlborough spinal surgery patient, Wyn Griffith's successful operation…
A retired Derby secondary school teacher, who spent two years barely able to walk, is back spending the summer on the golf course after surgeons removed a piece of bone that was trapping a nerve in his spine during spinal surgery.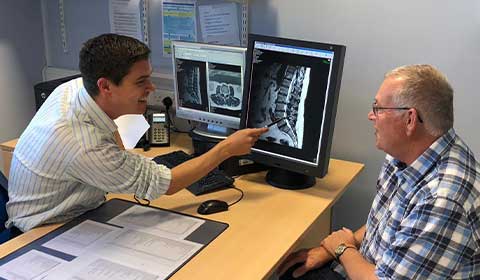 "Along with the short waiting times and friendly staff I would recommend anyone needing NHS treatment to take a look."

Wyn Griffiths, spinal surgery
Mr Wyn Griffiths, 67, who spent many years teaching Sociology and Economics at John Port School explained:
"I was in a terrible state. I would walk a few yards and then have to sit for a while and I would have to do that repeatedly if I wanted to get anywhere. I was taking 14 tablets a day including codeine and the epilepsy medications doctors prescribed, but they just weren't working, and I did not want to risk the potential damage to my body that taking so many drugs over a long period may bring."

Wyn Griffiths
Mr Griffiths had been to see several specialists when a friend at Horsley Lodge Golf Course suggested he try Practice Plus Group Hospital, Barlborough (formally Barlborough NHS Treatment Centre) after her husband was pleased with the treatment he received while having hip replacement surgery there.
Mr Griffiths said:
"At that point, it had been suggested the problem might be my hip. However, a consultation with a hip specialist at the treatment centre and an MRI revealed that a small bit of bone had trapped and damaged a nerve.

"I had been told before that there was disc degeneration, caused by osteoarthritis, but this MRI was the first to pick up the fragment."
Consultant neurosurgeon Andrew Bacon performed a laminectomy to remove the piece of bone causing the issue, creating space to give the nerve room to recover.
The day spinal surgery at Barlborough Hospital was a complete success. Mr Griffiths said:
"The pain had gone and I could walk again. I have had to build up my stamina again, after two years of pain and relative inactivity. But I have been able to stop using the buggy on the golf course and, 12 weeks after the operation, I can walk 12 holes and soon hope to be able to walk the full course."
Mr Griffiths was so pleased with his spinal surgery treatment at the centre that he too has recommended it to his fellow golfers. He said:
"Everyone at the centre was so professional and organised that everything ran very efficiently. Along with the short waiting times and friendly staff I would recommend anyone needing NHS treatment to take a look."
Hospital director Steve Booker said:
"I am pleased Mr Griffiths is pain-free and back on the golf course. There is no need for anyone, with a GP referral, to live in pain for a significant amount of time: it is demoralising, energy-sapping and takes us away from doing the things we love."

Hospital Director Steve Booker