Event
World Radiography Day
World Radiography Day is celebrated this week (Tuesday 8 November) which was created to mark the anniversary of the discovery of X-rays by Wilhelm Roentgen in 1895.
Radiographers worldwide use this day to celebrate and create public awareness about diagnostic imaging and radiation therapy and to promote the radiographer's vital role as part of the healthcare team.
In acknowledgment of World Radiography Day, we spoke with Sharad Daniel, Senior Radiographer, and Jennifer Hill, Lead MRI Radiographer, at our MSK & Diagnostics site in High Wycombe, Buckinghamshire.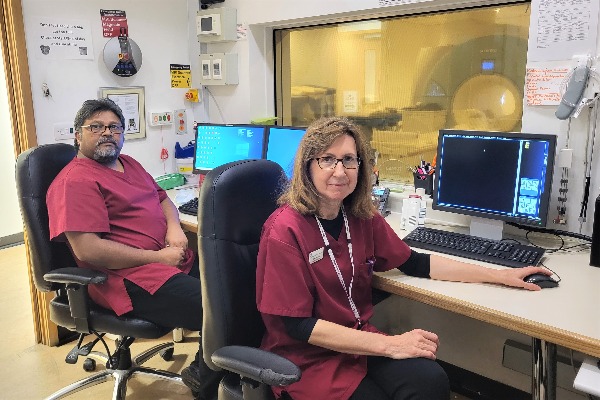 Sharad, can you tell us a little bit about your radiography career?
I've worked in radiography for 31 years in India and the UK. My first role in the UK was as a Mobile MRI Radiographer working around the West Midlands across a range of locations, including large venues such as football stadiums and other sporting sites.
The past 15 years with Practice Plus Group has really enhanced my radiography skills and I've gained great experience, including roles such as Radiation Protection Supervisor, Infection Control Lead and mentor to around 10 junior/general radiographers who have gone on to become MRI Radiographers. Recently I supported a physicist who now performs MRI scanning in addition to x-ray.
How has Practice Plus Group supported your development in healthcare?
Practice Plus Group has been instrumental in shaping my radiography career and I've worked hard to fulfil their faith in me. It's been a privilege to attend conferences, study days and clinical associated meetings which has enhanced my progression to my current role as a Reporting Radiographer. I can now proudly say I've reached the pinnacle of my career!
Throughout it all, I was encouraged by my manager, team and other colleagues – especially Jenny who really pushed me towards developing. My advice to colleagues at Practice Plus Group is to push yourselves to grow and take advantage of the fantastic training courses on offer.
Jennifer, why is radiography so significant in healthcare?
Radiography is the key diagnostic tool to determine the course of treatment for many patients, it can often be the first or second test a patient has as part of their diagnosis. At High Wycombe, we see around 28 patients per day and it's fulfilling to know once a scan is complete that a patient can continue on with their treatment as appropriate, and hopefully improve their condition.
Radiography is a great career! There are so many more opportunities to develop into varied specialities and directions nowadays. For example, radiographers now routinely give intravenous injections and can become practitioners in reporting and other diagnostics procedures which can help to take the strain off radiologists. It really is an interesting career pathway that can lead many different ways.
Thanks to Sharad and Jennifer for sharing their experiences with us!
Find out more about healthcare and a career with Practice Plus Group.