Event
Leading innovation in patient care at HMP Five Wells Prison
The healthcare team at HMP Five Wells were delighted to welcome their first patients into the prison on 4th February 2022, after nearly 12 months of planning.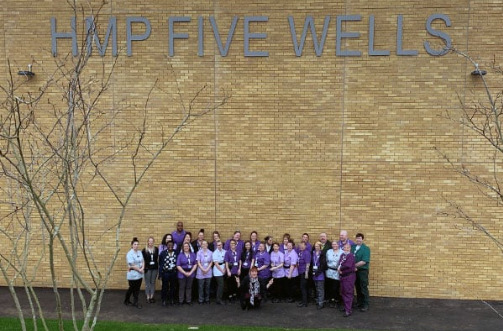 As the healthcare provider at HMP Five Wells, Practice Plus Group will be at the forefront of innovation at 'Britain's most high-tech prison'. A revolutionary, patient-centred model of care will be complemented by a range of digital healthcare solutions, and initiatives informed by patient feedback, all of which have been trailed in partnership with NHSE over the past few years to achieve more comprehensive patient care.
The inclusion of technologies like Traka MDL units will allow patients to collect their in-possession medication autonomously, letting them pick up medication up at a time that suits their schedule.
The use of technologies like Visionable and Attend Anywhere will allow residents to receive consultations with external community services whilst remaining within the prison. This allows Practice Plus Group clinicians to be part of patient consultations and reduces the need for prisoner escort services.
Practice Plus Group will also be championing Reconnect services at Five Wells. This is a service that helps to establish community-based health and social care support for patients after they leave prison, and aims to take steps towards patients' reintegration into the community.
The Practice Plus Group team has been preparing for the launch of HMP Five Wells nearly 12 months, and are thrilled to see services commence at the new site. Healthcare at HMP Five Wells includes a variety of services, and is one of the first sites in the UK to utilise Practice Plus Group's new model of care.
The new model is divided into an early days team, who look after patients for their first 14 days at HMP Five Wells; a planned care team, who manage patient's ongoing care requirements; and an unscheduled care team, who look after for patients that are unwell or experience acute conditions.
The prison is designed to encourage an ethos of rehabilitation and resettlement and Practice Plus Group has looked to patient informed initiatives wherever possible at the site in order to improve services.
Prisoners at HMP Five Wells are referred to as residents of the facility, and there are various workshops and training opportunities on offer to all residents.
The category C facility is designed to house 1,680 residents and has a modern design. There are no bars on resident's windows, and there are a range of easily accessible resident facilities, including: gyms, snooker tables, and table tennis tables.
The contract is set for an initial period of seven years, with the option of three 12 month extensions. Practice Plus Group now supports 48 prisons across England.
---
You can find out more about the team at HMP Five Wells and discover what it's like to work in one of our Health in Justice teams.