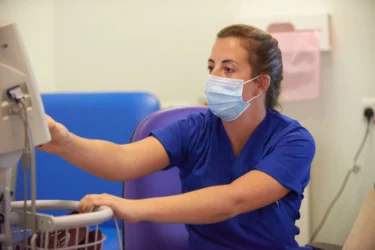 A day in the life of an outpatient nurse
Hear from Jess, an outpatient nurse at Devizes Surgical Centre.
"Hi, I'm Jess and I'm an Outpatient Nurse at Devizes Surgical Centre. Last year I completed a Return to Nursing course at The University of the West of England (UWE) in Bristol. I had been out of nursing for 11 years having chosen to be a stay at home mum with my two children.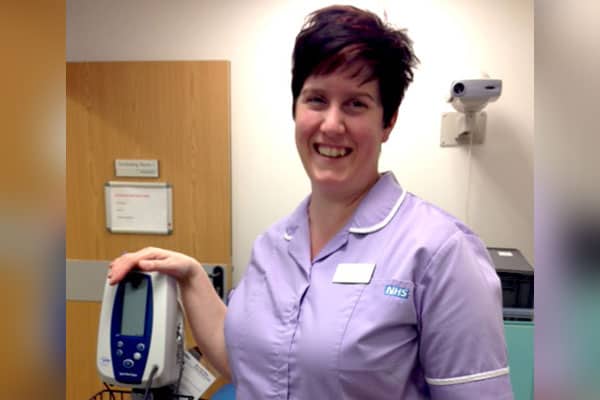 "As you can probably imagine, the thought of returning to the clinical area was pretty daunting, but the nurse in me just wouldn't go away! During the duration of the course, I was on a busy orthopaedic Trauma ward in a large general Hospital. It was a baptism of fire and utterly exhausting although thoroughly enjoyable and I was very pleased to find that I hadn't forgotten much over the years.
"However, when it came to finding a permanent job, I wanted to get away from the madness of the general hospital where I rarely got a break and it cost a fortune to park my car (if I was lucky enough to find a space!)
"A friend pointed me in the direction of Practice Plus Group and Devizes Surgical Centre. I arranged a tour and was pleasantly surprised at what I found. The staff were very welcoming. The centre itself was clean, light and airy and I could park my car for free!
"It didn't take me long to decide that this was where I wanted to work.
"There was a vacancy for a Pre-assessment nurse advertised. I'd never done outpatient nursing before, but I saw my return to nursing as an opportunity to try something new!
"The rest as they say is history. I was offered the post and I started work on the 1st June 2015. I really haven't looked back. The team of staff here are lovely and the centre is a pleasure to work in. Don't get me wrong, this is nursing and it can be pretty hectic but somehow it feels more manageable in this environment.
"My job is to ensure that anyone consented for surgery is fit to have it carried out. I do a set of baseline observations and ask in depth questions about their medical history, this may involve taking bloods and ECGs too. We assess for a variety of different procedures from dental and cataract surgery to orthopaedic, general surgery, ENT and more. This keeps the job interesting as it's something different everyday. The hours work well for me with two young children as there are no nights, Sunday or bank Holiday shifts.
"I have worked here for almost a year now and enjoy it immensely. I would highly recommend anyone returning to nursing to consider working in one of these lovely hospitals."
Current vacancies
| Job title | Location | Contract type | Schedule type | Closing date |
| --- | --- | --- | --- | --- |
| Bank Nurse / Paramedic Practitioner | Practice Plus Group Urgent Treatment Centre St Marys Portsmouth | Hospitals, Surgical Centres, MSK and Diagnostics | Casual/Bank | 31 Dec 2023 |
| Bank Endoscopy Nurse | Practice Plus Group Hospital Southampton | Hospitals, Surgical Centres, MSK and Diagnostics | Casual/Bank | 31 Dec 2023 |
| Bank Radiographer | Practice Plus Group Hospital Shepton Mallet | Hospitals, Surgical Centres, MSK and Diagnostics | Casual/Bank | 16 Jul 2023 |
| Bank Scrub Practitioner | Practice Plus Group Hospital Shepton Mallet | Hospitals, Surgical Centres, MSK and Diagnostics | Casual/Bank | 16 Jul 2023 |
| Part Time Registered Nurse | Practice Plus Group Hospital Barlborough | Hospitals, Surgical Centres, MSK and Diagnostics | Permanent | 16 Jul 2023 |
| Endoscopy Lead | Practice Plus Group Hospital Shepton Mallet | Hospitals, Surgical Centres, MSK and Diagnostics | Permanent | 16 Jul 2023 |
| Bank Registered Nurse | Practice Plus Group Hospital Shepton Mallet | Hospitals, Surgical Centres, MSK and Diagnostics | Casual/Bank | 16 Jul 2023 |
| Bank Pharmacist | Practice Plus Group Hospital Barlborough | Hospitals, Surgical Centres, MSK and Diagnostics | Casual/Bank | 16 Jul 2023 |
| Day Ward Nurse | Practice Plus Group Hospital Barlborough | Hospitals, Surgical Centres, MSK and Diagnostics | Permanent | 16 Jul 2023 |
| Part Time – Anaesthetic Practitioner | Practice Plus Group Hospital Shepton Mallet | Hospitals, Surgical Centres, MSK and Diagnostics | Permanent | 16 Jul 2023 |
| Anaesthetic Practitioner | Practice Plus Group Hospital Shepton Mallet | Hospitals, Surgical Centres, MSK and Diagnostics | Permanent | 16 Jul 2023 |
| Bank Pharmacist | Practice Plus Group Hospital Shepton Mallet | Hospitals, Surgical Centres, MSK and Diagnostics | Casual/Bank | 16 Jul 2023 |
| Bank Anaesthetic Practitioner | Practice Plus Group Hospital Shepton Mallet | Hospitals, Surgical Centres, MSK and Diagnostics | Bank | 16 Jul 2023 |
| Part Time Pre-Admission and Clinical Triage Nurse | Practice Plus Group Hospital Shepton Mallet | Hospitals, Surgical Centres, MSK and Diagnostics | Fixed Term | 16 Jul 2023 |
| Bank Optometrist | Practice Plus Group Ophthalmology North West | Hospitals, Surgical Centres, MSK and Diagnostics | Casual/Bank | 16 Jul 2023 |
| Theatre Manager | Practice Plus Group Surgical Centre St Marys Portsmouth | Hospitals, Surgical Centres, MSK and Diagnostics | Permanent | 30 Jun 2023 |
| Clinical Pharmacist | Practice Plus Group Surgical Centre St Marys Portsmouth | Hospitals, Surgical Centres, MSK and Diagnostics | Permanent | 30 Jun 2023 |
| Bank Registered Ward Nurse | Practice Plus Group Surgical Centre Gillingham | Hospitals, Surgical Centres, MSK and Diagnostics | Casual/Bank | 30 Jun 2023 |
| Bank Theatre Nurse – OPD | Practice Plus Group Surgical Centre Gillingham | Hospitals, Surgical Centres, MSK and Diagnostics | Casual/Bank | 30 Jun 2023 |
| Bank Ophthalmic Nurse | Practice Plus Group Surgical Centre Gillingham | Hospitals, Surgical Centres, MSK and Diagnostics | Casual/Bank | 30 Jun 2023 |